Ethel Cain's "Preacher's Daughter"
This debut, filled with angst and longing, arrives just in time for Sad Girl Summer™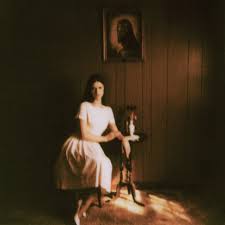 Ethel Cain is not a pop star.
She has an archangel's Hebrew name tattooed at her hairline and a ketamine-induced stick-n-poke across her neck. She's hopped from an abandoned church in rural Indiana to a wood-paneled, one-bedroom in small-town Alabama, and her self-assigned surname literally means, "the inability to feel pleasure."
This chick is hardcore, and her debut album delivers after a string of singles and EPs. 
"Preacher's Daughter" is gritty. It's hedonism and pick-up trucks, angst and striped bikini tops. 
Hayden Silas Anhedönia, Cain's given name, stumbles through religion, sexuality and femininity via the selfish, worsened version of herself that is Ethel Cain, taking on this strange role of Southern gothic final girl.
Ethel Cain is the one left to tell the story.
Her sound mimics that of Florence Welch or Sky Ferreira. Ethereal, and a little automated, manipulating Gregorian chants into sex anthems and letting loose one lone, gut-wrenching scream on "Ptolemaea" after six minutes of whispers.
Religious guilt and yearning seep from the thirteen track album, "American Teenager" capturing naivety plainly and "A House in Nebraska" reckoning with consequence. 
"Gibson Girl" is named for Charles Gibson's 20th century drawings of the ideal woman, and "Thoroughfare" pushes ten minutes. 
This album is unconventional, and completely intentional. 
However, at 76-minutes, it's no surprise that "Preacher's Daughter" peters out halfway through, shifting from "aux-necessity" to "dissociate in a dark room."
These later songs take a second listen to fully appreciate, even require pulling up official lyrics to truly hear Ethel Cain's story. 
But "Preacher's Daughter" is not for everyone, and that's exactly the point. 
Anhedönia is not looking to churn out a hit or appeal to the masses as Ethel Cain. "Preacher's Daughter" is intimate and familiar, put together fully for herself and her self-proclaimed "daughters of Cain."