This Week, a Hot New Blondshell Enters the Villa!
Sabrina Teitelbaum's latest creative reinvention hits all at once—"like sepsis"
Hunched bare-chested to a laptop, propped at a sink in ruffly mesh lingerie and seated, brushing teeth, in the same underwear set, is Sabrina Teitelbaum as Blondshell. 
Three songs released over three months. New York native Teitelbaum's triptych of intimate black-and-white debut singles spanned the summer—June revealing somber "Olympus," July bringing angsty "Kiss City" and August presenting a mildly melodramatic, Hole-inspired "Sepsis."
But she didn't stop there. 
Before this reinvention, Teitelbaum made music as BAUM, an epitomized-pop identity stemming from her own surname with a sound indistinguishable from the rest of the 2017 top charts. But after all but wiping BAUM's discography from Spotify, leaving just a 2020 single and its subsequent remix, Teitelbaum has retired that three-year identity in favor of a newer, more masculine twist on a trademark Marilyn Monroe label.
And now, she's a modern Patti Smith. She's a Lucy Dacus little sister. She's PJ Harvey circa 1993. An Olsen twin meets Carrie Bradshaw—Teitelbaum's got the look. 
She has this unique ability to elevate every song's energy somewhere smack dab in the middle, a level up from mellow to messy microphone. "Olympus" and "Sepsis" do this best, both kicking into doubly desperate testimony at the middle mark.
And while this new persona is still built around BAUM's integral confessional nature, Teitelbaum's reinvention has ditched pop-princess polish.
Blondshell is gentle. Intimate. Raw. 
"Cartoon Earthquake" epitomized this stripped-down style, matching Teitelbaum's debut summer singles with her already-signature sepia-tint sound and unabashed melodrama. This dreamy, grunge-pop release was the product of Spotify's "Fresh Finds" discovery program. An initiative launched in May 2021, Spotify works to provide the tools and resources independent artists need to guarantee long-term career success for up-and-coming artists.
Now signed with Partisan Records, an label that represents artists like Cigarettes After Sex and Ezra Collective, Teitelbaum is carving a name for herself. "Veronica Mars," released four months after Blondshell's summer debut series, is short and sweet—burning of bittersweet nostalgia. 
Leave a Comment
About the Contributor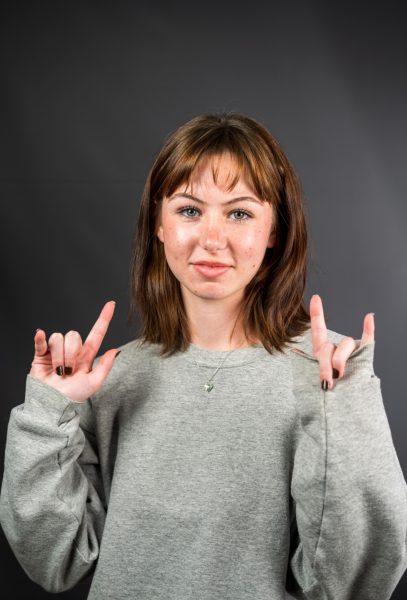 Lindsey Pease, Crest Editor
Lindsey is named Lindsey and likes pottery.