"PORTALS": Melanie Martinez's Stunning Comeback
The mystical and mysterious album that surprised fans
Since the release of her last album "K-12", Melanie Martinez went on a two year hiatus towards music production. Now she's back and better than ever in her new album "PORTALS" which was released on March 31st. However there are small resemblances to Martinez's past albums throughout each song, including toy-like sound effects that mirror songs such as "Alphabet Boy" or "Crybaby," two very popular tracks from the album. 
A combination of Alt Pop and electronica, Martinez showcases unique songwriting, which makes even the most disturbing lyrics sound pleasing to the ear. From her opening song "DEATH" to the thirteenth track "WOMB," Martinez tells the story of her muse Crybaby transforming into a pink skinned, four eyed fairy that's stuck between Earth and the afterlife, which is first seen floating out of the body of Martinez. Full of attitude and spirit, this character is certainly a joy to see.
The album tells a story of getting out of a narcissistic/toxic relationship and accepting who one is and what one has always been. As the first song begins, the listener is welcomed by an eerie and ethereal voice calling the words "life is death, is life, is death, is life," which repeats for a few seconds, as the sound of a beating heart slowly fades in. 
In the second song "VOID" another ethereal intro pulls the listener into this fantastical world that Martinez has created. Martinez's sweet vocals sail over a mellow guitar riff as she describes her real life experience, with lyrics such as "like a priest behind confession walls, I judge myself kneeling on a metal grater." As the album continues, the songs begin to become darker, the track "THE CONTORTIONIST" which features the sound of cracking bones and enthralling lyrics which describes literally "bending over" for a lover that doesn't appreciate their partner for who they are. 
The song "EVIL" starts off with a gritty guitar track fading in, the main protagonist ends the toxic relationship that has been the main subject in the previous tracks.
"My favorite of the conflict songs. It flowed. It was a mental turning point, where I was finally able to articulate perfectly what I had dealt with in my last relationship," said Martinez in an interview with Apple Music. "I spent the entire day blowing out my vocals while recording it."
The final track, "WOMB" describes rebirth and our final goodbye to Crybaby, as her memories are erased to make room for new ones in her new life as a purer, cleaner soul.
Leave a Comment
About the Contributor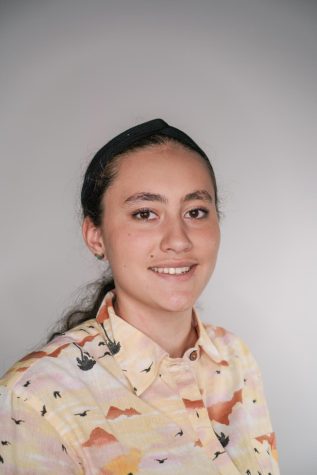 Gabi Fernandez, Staff Writer
When she isn't at school, you can find sophomore Gabriella Fernandez cuddling with her French bulldog Coco while working on her newest art piece. Aspiring to become an author and a Character artist at...