You Aren't Supposed to Enjoy This Album
Underground rappers JPEGMAFIA and Danny Brown make a splash with their latest release.
One of the most unique projects of this year "SCARING THE HOES," released on March 24 by underground rappers JPEGMAFIA and Danny Brown, quickly shot up American top-100 charts for its incoherent and eccentric style. The project was highly anticipated after the single "Lean Beef Patty," released just a week before, shocked listeners with its hyperpop-inspired beat and eerie synth chords striking behind fast, angry and, at times, screechy vocals from Brown and JPEGMAFIA. This project offers a lot for listeners to hear and consider, with some aspects outshining others.
The title track encompasses themes and sounds from almost every other track on the project. The unsettling claps, scratchy brass, and heavy bass drill into your head while the duo use their vocals to fill the space with exclamations of independence and disdain for standard hip hop.
"We don't wanna hear that weird s*** no more" Brown raps on the title track, "Play somethin' for the b*****s How the f*** we supposed to make money off this s***?" Brown pokes fun at the consumers of modern rap, smearing them for using others' art as a way to make themselves look good. The duo wants the audience to understand their music isn't just for the money, but rather a way for the underground to push back against the industry. The two maintain that many popular hip-hop artists and albums are copies of each other, losing the uniqueness art is supposed to promote. Though a powerful message, the themes on this album are not especially diverse which results in some of the lyrics feeling reused or old.
The production on this record alone gives music nerds a reason to listen to nearly every track in its entirety. Filled with concussive beats each track throws listeners into an almost delirious state. The two rappers set out to create an album that is weird yet beautiful and, evidently, pays no attention to industry norms.
"Garbage Pail Kids" greets listeners with one of the strangest samples in modern music, taken from an old Japanese beef commercial. The track is broken up into palatable chunks by heart wrenching yet beautiful guitar solos played on synthetic sounding electric strings. "Fentanyl Tester" brings back the hyperpop theme with fast paced samples being beaten into submission by heavy bass, at times twisting into an almost house-inspired EDM sound. "Burfict!" feels like the only track anchoring this record to the mainstream music industry. Undeniably one of the easiest tracks to listen to on this record, "Burfict!" is filled with uplifting brass instruments and ear shattering applause to hype the listener up before conceding to the heavy, head nodding beat drop.
"SCARING THE HOES" wants to be an abrasive and gritty listen. JPEGMAFIA and Danny Brown want to make listeners uncomfortable, forcing them to look at music less objectively. It's hard to enjoy an album with a sound that resembles a car crash, although this project highlights the importance of it. The playful self awareness and experimental aspects of this record make it a super-interesting listen, and it still has its fair share of bangers. Despite being one of the most unhinged and difficult listens in modern hip-hop, it stands out vibrantly among this year's releases.
Leave a Comment
About the Contributor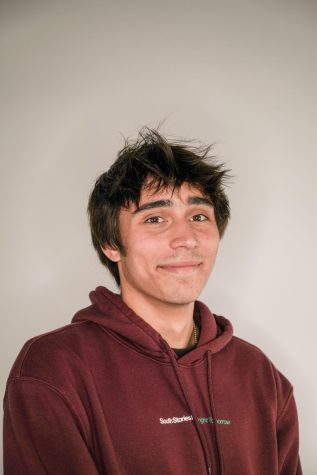 Kian Warnock, Staff Writer
Whether in snow or sun, Kian Warnock is always ready to find adventure nearby. Skiing, biking, and swimming are only a few of the hobbies Kian enjoys, and he is always looking for new activities to do....