Papi Chulo's: Bend's Next Go-to Taqueria
After its opening six months ago, Papi Chulo's is beginning to pick up traction in the community as some of the best tacos in town.
I've lived in Bend almost my whole life, and eaten at almost every restaurant in town.
Yet new hidden gems are constantly emerging as the city continues to expand. From Thai restaurants to Japanese ramen shops, Bend residents are constantly looking for new authentic food to tame their cravings. 
One of the newest additions to our town's roster is Papi Chulo's, an authentic taqueria that opened in June of last year. This particular taqueria caught my eye one day when walking by the Box Factory with some friends, looking for somewhere to grab a quick bite. The bright yellow street art style sign on the face of the building felt like a warm welcome, perfect for the snowy weather outside.
Upon entering, the smell from the kitchen quickly filled my nose with the scent of fresh herbs and spices. An impressive mural springs off the wall to the right grabbing your attention immediately, combined with the latin music playing, it became clear to me Papi Chulo's isn't your average bend taco spot. Like many Bend businesses, Papi Chulo's prides itself on its community.
"It's important for our Latin community in Central Oregon to have sounds and flavors of their homeland," said Ramzy Hatter, one of the founders of the establishment.
Still, with so many taco options in Bend I was curious to see how the flavors at Papi Chulo's stacked up. As I looked at the menu I noticed they had highlighted Birria Tacos. The subject of many popular social media trends, birria tacos are a traditional Mexican dish consisting of marinated meats served with a spice infused broth on the side. 
"The birria separates us from other taquerias," Hatter said, an effective way to draw in customers and introduce its patrons to the greatest flavors from Jalisco, Mexico. 
After a short wait it was time to order, I took a number and a small stairway led me to a second floor seating area. From there you can see down into the kitchen as your food is made, and the wait isn't long either.
First I had a homemade horchata, a spice filled iced drink often made with rice. Horchata definitely isn't everyone's favorite but personally is one of my go to mexican drinks. Papi Chulo's delivers with this beverage, it's smooth and refreshing while maintaining that sweet cinnamon flavor that all good horchata should have. If you've never tried one before, this is a great place to have your first. However, if you aren't a fan, they have a range of cocktail options and other soft drinks you can choose from. 
To share at our table, we got an order of the nachos with steak, served in a massive portion and slathered in fresh guacamole. We found it challenging to eat without getting too messy, though the flavors were all there, and none too overpowering. A solid rendition of the classic dish most are familiar with.
When it comes to tacos, we tried Pollo, Carne de Res, Cochinita, Barbacoa, Poc Chuc, and of course the Birria Tacos. These tacos were excellent, each corn tortilla stuffed to the brim and covered in sauce. When compared to other taquerias such as El Sancho, Papi Chulo's is showing its elders exactly how it should be done. With competitive pricing and a great location these tacos are absolutely worth a stop, Hatter speaks on the inspiration for the restaurant.
 "It started as a way for our Latino staff and cooks to offer their favorite recipes from back home. Authenticity was the goal," said Hatter. Although fairly messy, the food is so amazing you'll hardly notice the buildup of fallen taco filling in your lap. 
Although it felt as if we ate more food than we ever had before, there are many menu items we haven't had the pleasure of tasting yet. I will certainly be back and would recommend this spot to anyone and everyone that likes Mexican food. If you're looking for more information, head over to @papichulostacos on Instagram for hours and additional pictures of their great food. With fierce competition in Bend it appears Papi Chulo's is here to dominate, and I for one, am ready to see that happen. 
Leave a Comment
About the Contributor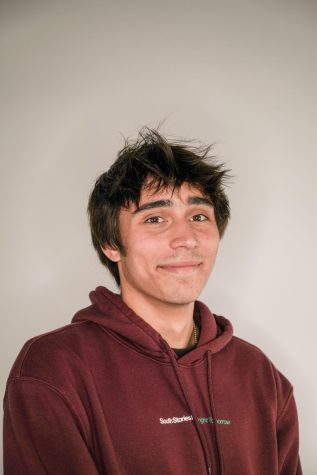 Kian Warnock, Staff Writer
Whether in snow or sun, Kian Warnock is always ready to find adventure nearby. Skiing, biking, and swimming are only a few of the hobbies Kian enjoys, and he is always looking for new activities to do....