Gabi's Travel Log: Eating My Way Through Copenhagen: Noma
My family and I are crazy about food. Well,  I guess we should be considering we own Ariana's and have been in the food industry for years. What we love most about food: the way a simple ingredient can transform into something undoubtedly delicious. We took a few weeks out of our busy lives to venture out on a food-themed trip in Copenhagen. 
When we arrived in the city, it was an 8 minute walk from our hotel to one of the most bizarre, yet delicious restaurants, Noma. Devoting themselves to using  products strictly native to Denmark and foraged by the chefs, Noma creates dishes the average person would never in a million years think about eating. When we walked in we were escorted by a staff member to a beautiful greenhouse filled with vegetables, herbs and fruits—this was our waiting room. After being seated we were met with a cup of freshly brewed elderflower tea.
A few minutes later, we walked through a grand archway—giant deer antlers and dead ducks nailed to the wall— thus marking our arrival to the "Game and Forest" season.  The restaurant changes their menu between every season, alternating "Ocean," "Vegetable" and "Game and Forest."  Although local game and vegetables throughout the region are present in all four seasons, it is especially highlighted in "Game and Forest". 
 Join me for a quick glimpse into the best and certainly weirdest dishes I tried within Noma's sixteen course tasting menu.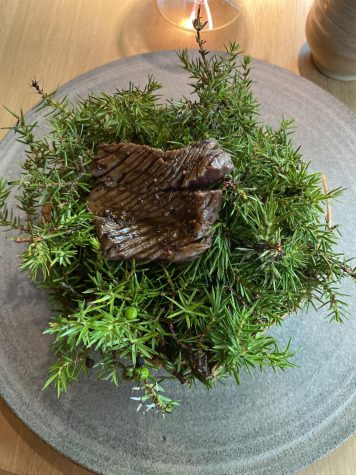 Our first course was served. Grilled reindeer heart cooked over an open flame and presented over a bed of fresh pine tree branches, and accompanied by a juniper bearnaise sauce. The flavor of the heart was tender and sweet, but not too gamey—which would result in a bitter texture. To put it simply, it was delicious.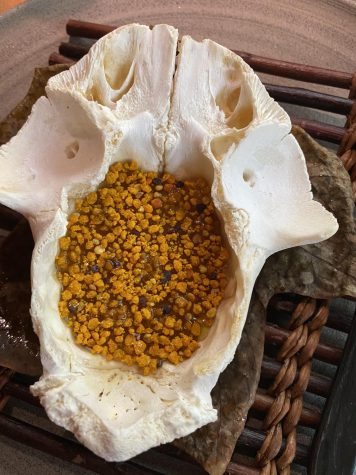 Keep in mind, all appetizers and desserts were paired not only with wine but with juice as well—an uncommon occurrence in fine dining. Our second course, served with chanterelle ancho chili juice, was dished out in minutes after our first plate. A reindeer brain custard layered with a pheasant jelly and covered in bee pollen was plated in the better half of a reindeer skull. The flavor of the jelly was savory and a bit chewy—an odd texture—which paired well with the silky and soft custard. The grittiness of the bee pollen gave the dish a well needed, yet light, crunch.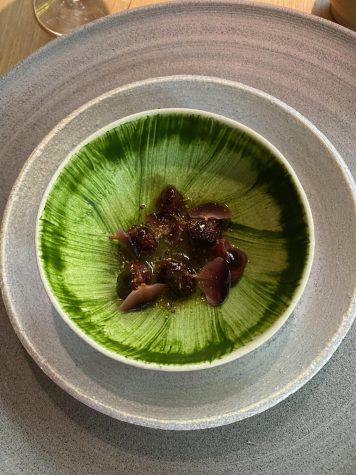 The third dish, notably one of the more interesting courses and by far the strangest flavor combination, was composed of dried fruits filled with bee pollen and coated in rabbit oil. Perhaps the unique flavor results from the sweet fruit and meaty rabbit flavor.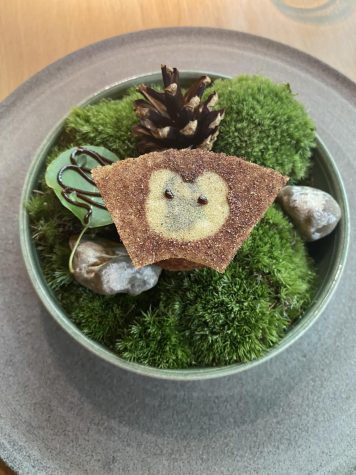 Another interesting course was served—a deep-fried fritter that made with bear meat. The fritter had a crunchy exterior with a fluffy yet dense interior. The bear had a delicious pork-like flavor which paired exquisitely with the bear-blood carmel you would lick off a leaf.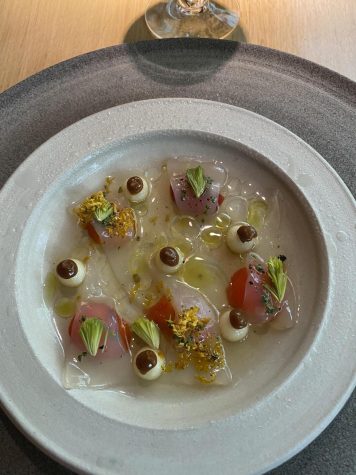 As a few more courses passed, a dish so bewildering was served in front of me. Rosehip berries and sliced apples covered in a rosewater sauce served with SCOBY—a colony of living bacteria and yeast born when kombucha is made. The dish was extremely mind boggling. The tangy apples, the crunch of the rose hips and the incredibly odd texture and sweet taste of the SCOBY is definitely a dish that will never be forgotten. 
The remainder of the courses consisted of:
Reindeer sweetbreads (aka pancreas) deep-fried with fried moss
Quail egg wrapped in pickled ramson
Wild duck and truffle tart
Reindeer penis ragout
Fresh hazelnuts and caviar
Cooked pumpkin with white currant
And now for dessert. 
Our first dessert course was a saffron infused ice cream covered in poppy seeds. Saffron is a very expensive spice, Its costliness has to do with its time-consuming harvesting. The ice cream was served in a locally made beeswax bowl—not edible by the way. The flavor of the ice cream was full of spice, it tasted creamy and sweet, with the saffron giving an earthy and peppery addition. The bottom included a  licorice sauce drizzle.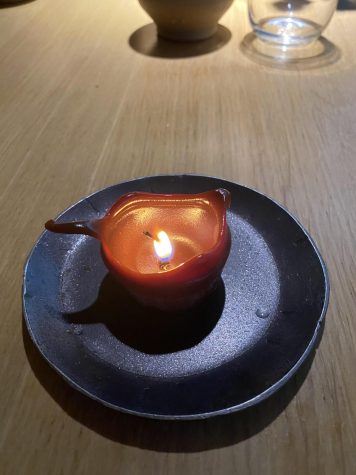 During our last dessert course, a round red candle was lit at the table, and the waiters would ask for you to blow it out. However, we were unaware the candle was actually the dessert! The candle was made with reindeer blood and marrow along with an edible wick to top it all off. When you took a bite of the candle it felt like you were eating a chewy, decadent piece of caramel with it's savory sweet combination.
After the last dish was taken, we took a tour around the restaurant and  kitchen. The restaurant was an adventure for the taste buds, and as it might seem bizarre to eat these delicacies, Noma focuses heavily on the creativity aspect of culinary art.
Leave a Comment
About the Contributor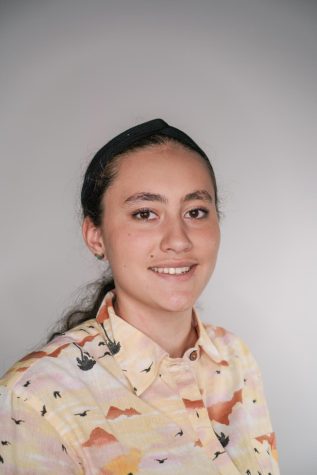 Gabi Fernandez, Staff Writer
When she isn't at school, you can find sophomore Gabriella Fernandez cuddling with her French bulldog Coco while working on her newest art piece. Aspiring to become an author and a Character artist at...