Daisy Jones & The Six
The re-revival of the '70s
"Daisy Jones and The Six" is glamorous. Music all around, the sunset strip, groupies, tour buses, glitter, drugs and summer all bundled into one. Consumers can now fully immerse themselves into their vintage California fantasies.
One of three confirmed book-to-screen adaptations from Taylor Jenkins-Reid, "Daisy Jones and The Six" is a new series on Prime Video that follows a fictional band, The Six, on their rise and fall from fame in the late 1970's. The "BookTok" sensation's loveable (and oftentimes hateable) characters are brought to life in the ten episode limited drama series. 
The supposed clash of "Almost Famous" and real-life band Fleetwood Mac, "Daisy Jones and The Six" offers the ultimate summer style guide: crochet tops, cowboy boots, canadian tuxedos, flowy skirts and blouses, etc. If it was worn in the '70s, it was most likely copied in the show. Throughout the series, over 1,500 outfits are featured between all the actors. The lead character, Daisy Jones, possesses a carefree-coastal style that's irresistibly mimicable. 
So don't be surprised when people are dressed like Daisy Jones this summer. And along with the return of '70s fashion, the decade's music style is making a comeback as well. Popular bands like Greta Van Fleet are heavily influenced by classic rock. It's impossible to listen to the "Daisy Jones" soundtrack and not want to explore similar sounding music, such as Fleetwood Mac. "Daisy Jones" is here to push the up and coming '70s moment forward. 
When the book first released in 2019, readers were quick to spot the similarities between The Six and Fleetwood Mac. Most predominantly: the shared drama. Rocky relationships, dissing one another through song lyrics and making reckless decisions that put the fate of the band at risk are all shared plot points. Reid even stated in an interview that she frequently listened to Fleetwood Mac and watched their old interviews during the writing of "Daisy Jones and The Six." Reid noticed a story within the lyrics, and saw endless possibilities. Riley Keough, who plays Daisy, also said in an interview that she wanted all the "Stevie Nicks vibes" for her character. Keough's family history may be a factor in how she was able to channel her inner rock star so well. As Elvis Presley's granddaughter, it's no surprise she can sing.
All ten episodes lead up to The Six's final performance in Chicago. This fictional concert reminded many viewers of the infamous 1997 "Silver Springs" performance by Stevie Nicks. Nicks made her anger so apparent yet passive as she sang her ballad directly to her ex band member and boyfriend Lindsey Buckingham, much like Daisy Jones and Billy Dunne. 
One of the series featured songs, "Look At Us Now" sampled the very recognizable guitar riff from "The Chain." Again, drawing the connection between The Six and Fleetwood Mac.
Not only did the show provide a throwback '70s escape, but an entire rock album. "Aurora" is a real album by Daisy Jones and The Six you can stream on Spotify, or, of course, on vinyl. Riley Keough and Sam Claflin (who plays frontman Billy Dunne) are actually singing their characters' parts. The discography is quite impressive considering it is a fictional band. While many movies have original songs, none have quite done it like this.  All 13 songs on the album are original. You can feel the tension in the lyrics, which is also seen in Fleetwood Mac's "Rumours." It's genuine sounding music.
Reid did initially write songs for the book, but they ended up not translating very well into actual music. So, while the concept is the same, the lyrics are different. Reid didn't take part in the songwriting process for the show. Instead, people like Phoebe Bridgers and Blake Mills pitched in, along with many others. This was controversial, because many songs in the book represented the major themes, such as substance abuse and messy relationships. 
While the vision for "Daisy Jones" was there, many were disappointed by the creative and casting choices. 
As the show progressed, fans realized that many of the characters looked the same; slim noses, perfect teeth and facial symmetry. In comparison to "Almost Famous," "Daisy Jones" lacks the differentiating looks that were seen throughout '70s music. It's unrealistic for every member of a band to look like they could be a model. The cast of "Daisy Jones" all have what the internet calls a "smartphone face." Meaning that you could easily tell a modern face from an "old timey" face. Camila Morrone, who plays Camila Dunne in the show, particularly stood out with her obviously modern persona. To put it plainly, the cast looks like they know what Instagram is. 
Summit sophomore Abby Blumer commented that the series, specifically the fashion, lacked the desired '70s authenticity.
"It felt costumey to me, like they're all just wearing clothes from Free People," Blumer said.
Still, "Daisy Jones" managed to pull off the frequently recreated '70s period piece. If you've ever finished watching "Once Upon a Time in Hollywood," or  "Almost Famous" and found yourself longing for that retro summer feeling, look no further, and go watch "Daisy Jones and The Six."
Leave a Comment
About the Contributor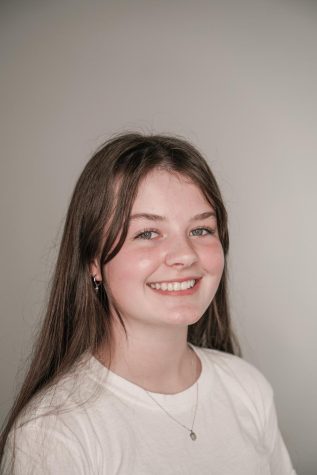 Scout Crockett, Staff Writer
Scout enjoys redecorating her room while listening to her dad's old records and worrying about her future, although she's only a sophomore. She loves a good adventure and possesses a passion for exploring...