On Father John Misty's "Chloë and the Next 20th Century"
The eclectic indie artist tips his hat to old Hollywood in his latest release.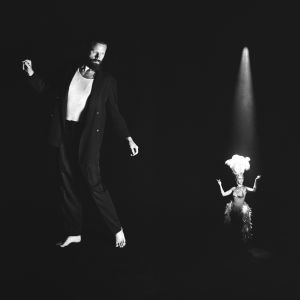 "Chloë and the Next 20th Century" is the kind of album you could picture Joshua Tillman performing late at night for a half empty cocktail crowd in an ambiguous era, all dreamy lights and silver dresses.
He'd stand at a vintage mic, fashioned in a satin suit and alien with his bush of a beard, but no matter his stature, the crowd would be enraptured.
Over the span of his last four studio albums, Tillman has established a completely individualistic niche as Father John Misty. He never fails to craft musically lilted vignettes that each bleed their own charm, character, and, of course, crisis.
The black and white album cover for "Chloë and the Next 20th Century" features a posed Tillman without any shoes and a figure far behind him, presumably Chloë, dressed in feathers and lit under a spotlight. This cover is stark beside the rest of Father John Misty's collected discography, usually draped in trademark psychedelia.
Tillman adopted his priest-alias stage name in 2012, a concerted effort to ditch the "sad and slow" music he was releasing as J. Tillman and touring as the drummer for the Seattle-based Fleet Foxes.
However, "Chloë and the Next 20th Century" is nothing if not sad and slow, Tillman's return to the somber roots he sought to escape ten years ago.
"Chloë" sets the precedent for an album that would soundtrack a Bing Crosby film, though that's never quite delivered.
 "Goodbye Mr. Blue" bids a folky farewell to a dead cat with a melody to match Harry Nilsson's 1969 "Everybody's Talking."
The warbled sound of "Kiss Me (I Loved You)" is like heartbreak pouring desperately from a broken record player.
"(Everything But) Her Love" is a dreamy, psychedelic love song a lá The Beatles of the seventies.
Buddy of "Buddy's Rendezvous" belongs by the pool with Chucky and George on Lana Del Rey's "Chemtrails Over The Country Club," and she shows Tillman up on his own song with her cover featured on the album's deluxe vinyl edition.
The sweeping orchestra of "Q4" colors the rise and fall of fictional author Simone Caldwell with a music video rolling her film adaptation's scrapbooked end credits. 
"Olvidado (Otro Momento)" is a confused "Girl from Ipanema."
"Funny Girl" tantalizes Tillman's manic pixie dream girl fantasies via a parasocial relationship with a "five-foot Cleopatra" comedian muse.
"Only a Fool" would be a perfectly cinematic heartbreak song to play while a lonely Tillman walks rainy city streets and mitigates flashbacks to his ruined relationship, should a music video ever come about.
"We Could Be Strangers" details the fleeting romance of two car-crash victims spending their last moments together dying in the street.
And the electric guitar whiplash on "The Next 20th Century" comes too far out of left field to articulate the shock it leaves.
"Chloë" and "The Next 20th Century" bookend the album with the rest of Tillman's tinnily tragic love songs strung in between.
While each track stands on its own, together the songs of "Chloë and the Next 20th Century" fit into an album that traverses decades. An anthology of sorts, dipping into unlinked lives and leaving more questions asked than answered.
"Chloë and the Next 20th Century" is not exactly the album of the year, but as Tillman decides on the final track: "I'll take the love songs if this century is here to stay."