Minions: Rise of Gru
Universal Pictures strikes again with America's favorite supervillain, Gru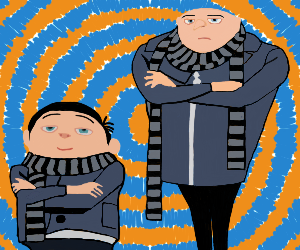 Summer of 2022 Universal Pictures released an animated comedy film that attracted a lot of attention. Over 61 million videos on Tik Tok were posted of teenage boys dressed up in their best suits going to watch the prequel to "Despicable Me". Despicable Me, released in 2010 was the original of the four, soon to be five movie series. Twelve years later, Universal Pictures has released a prequel to the "Despicable Me" series called "Minions: Rise of Gru". The movie features Steve Carell, who brings his humorous voices and passion for villainy back to his character of Felonious Gru.
Universal Pictures decided to create "Minions: Rise of Gru" an endearing film that dives deep into Gru's childhood where he sparked his passion for villainy. The great thing about "Despicable Me" and lMinions: Rise of Gru" is how the storylines connect. "Minions: Rise of Gru" gives little snippets throughout the movie foreshadowing Gru's life in "Despicable Me" when he grows up and becomes a real villain. The connections throughout the movies are very intentional, with each detail being filled with meaning. The minions are a huge part of the "Despicable Me" world. They have shown their loyalty and obeyed their master from the beginning of his villain career. The yellow banana lovers worship their "mini boss" in "Rise of Gru", and continue that trend in every battle they encounter. 
"Minions: Rise of Gru" is yet another example of how kids' animated movies keep growing and evolving. This is such a unique film because it's both a series and a prequel to "Despicable Me" which is something Universal Studios doesn't do much. It's definitely worth watching these yellow pill-shaped creatures fight crime.