Summit's Sneaker Epidemic
As students trade countless paychecks for popularity and "shoe game," Summit hallways have become crowded with various Nike silhouettes.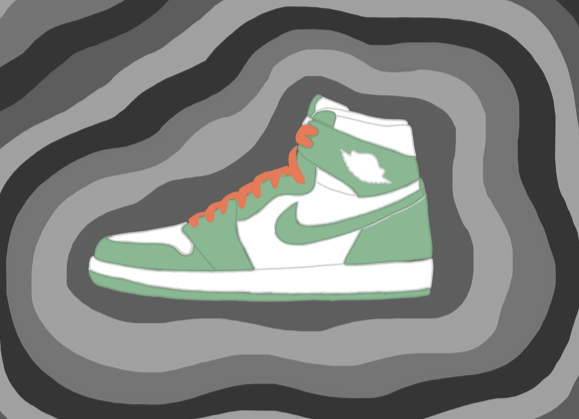 Shortly after the bell rings, students rush out for lunch, shuffling out into the cold wearing $200+ sneakers. Sneaker culture has become extremely popular at Summit High School, as Nike Blazers, Jordans, and Dunks have traveled from social media platforms and into classrooms. But what does this mean for sneaker culture, and more importantly, Summit High School?
 Sneakers became cemented in streetwear when Nike invested in Michael Jordan, an incredibly talented basketball player in the 1980's, according to Smithsonian Magazine. The Air Jordan 1 silhouette was created, and sneaker culture became engraved in fashion, with 34 different Jordan silhouettes following the original design.
"I think that shoes and sneakers, especially Jordans, can really elevate an outfit," said Hannah Massey, a senior at Summit. "Anyone can wear an awesome pair of shoes, all that matters is your shoe size, unlike other areas in fashion like body type or height." Sneaker culture is body positive, one of the many reasons it's gained popularity over the years.
Although 40 years have passed, Jordans continue to be a staple in modern day trends—sneaking their way into high schools everywhere. In a survey conducted by SGB Media in 2020, 47% of teens choose Nike as their favorite brand. With just one glance into the Summit hallways, this is undeniably true. It seems as if many students own at least one pair of exclusive sneakers, filling the crowds with bright colors and silhouettes. 
"Sneaker culture is super relevant here. I think part of it has to do with Tactics downtown," said Archie Kerr, a junior at Summit. "I also think most of the sneaker culture in Oregon comes from Portland and Eugene, that's where Nike is from. There is kind of that element of hometown heritage here with Nike."
"There are kids that will skip school just to wait outside of Tactics' front door, hoping for a pair of shoes left in their size," said freshman Kaspar Warnock. Almost biweekly, Tactics Bend announces a new pair of shoes in stock, being so limited that individuals must drop everything to have a chance of purchasing them. These are the true "sneaker heads," spending hundreds of dollars on shoes monthly. Most sneaker culture believers feel that trend following students are damaging sneaker culture as a whole. 
"Students that go to Tactics are not doing it for any popular trend," Warnock said. "But there's other people who just wear shoes for the trend and to look cool. It just ruins it for a lot of people who are legitimately interested, it damages sneaker culture and its image." 
Additionally, Summit's tight affiliation and attachment to sneaker culture seems to only strengthen the stereotypes pitted against it and its students. The unavoidable high prices and limited stock causes this highly attractive community to become tailored to the upper class. 
"I think part of the reason sneaker culture has become such a big thing at Summit is actually because of wealthy parents. Most kids have extra money and can buy all of these shoes," Massey said. "It gives them an ego boost and shoes are an easy thing that makes students seem cooler. It's definitely something money can buy."
"When people think of Summit, they believe our school is a very appearance-based place. I wish I could say that it wasn't but there's truth to that statement and our stereotype," Kerr said. "When you come to Summit, you should expect to see kids showing off their shoes."
Even as sneaker culture has become an essential part of fashion and self expression, in the halls of Summit it's resulted in the reinforcement of negative stereotypes, and competition between students, damaging our schools image. Students admit to the causes of this trend, but continue to participate, as sneaker culture is undeniably cool and interesting. Individuals should be able to wear whatever shoes they like, not a pair they feel will impress their peers and empty their pockets.