'365 Days of Girlhood'
Dylan Mulvaney commemorates a year of controversy and change after transitioning with Broadway performance
The 26-year-old TikToker and influencer Dylan Mulvaney is celebrating her 365th day as a transgender female on March 13. To commemorate a long and chaotic year, she intends to host a live stream for fans to watch, with ticket prices being $5. 
"A lot of you don't know this, but I toured in a Broadway musical before I transitioned," Mulvaney said in an interview with Timcast. She's referring to her former acting career, in which she appeared on the national tour of The Book of Mormon. "I can't think of a better way to celebrate day 365 than it being the first time I'm on stage as a woman."
Mulvaney is attempting to raise as much money as possible, as all profits from the show are being donated to The Trevor Project, a nonprofit organization supporting LGBTQIA+ rights. The project is dedicated to providing queer youth with a welcoming, loving world to live in and launches crisis services to help youth in need. 
Transitioning is a difficult journey, and Mulvaney was put onto a pedestal very quickly over the course of her transition. Being in such plain sight of the public eye has created huge amounts of pressure and negativity directed toward her. However, this never stopped her from speaking on behalf of trans youth in America.
"I would say she does a good job of representing the trans community," said one of Summit's own freshmen, Colorado Quinn, who identifies as transgender and uses the pronouns he/they. "Dylan 'passes' very well and she is a great and inspiring person to represent the trans community, but it would be nice to see and normalize some people who don't exactly fit the binary or 'stereotype.'"
Referring to a transgender individual as "passing" means that their physical appearance generally matches their preferred gender. Not all individuals feel the need to alter the way they present, whether in the form of permanent surgeries or clothing and cosmetics. However, it's often a little bit easier for "passing" individuals to avoid day-to-day transphobia due to the fact that they might not be noticeably transgender.
Mulvaney recently got facial feminization surgery (a range of procedures to make the face shape more feminine), which allows her to not only appear more like a cisgender woman but also help her feel more confident in her own skin. Overjoyed to share her feminized self with the world, she released photoshoots, artistic videos, and posts to reveal a revitalized face that makes her the happiest she's ever been.
"I think it's really cool that she's able to get that for herself, for how she wants to feel and be perceived," said sophomore Claire Coughenour, whose pronouns are she/her. She explains that she admires Mulvaney for making the decision to get surgery based on her personal needs.
Over the past year, Mulvaney has become a role model for transitioning individuals all over the globe as she advocates for transgender rights. She's been documenting her journey through TikTok, with a segment she calls "Days of Girlhood." Mulvaney also encourages the idea of trans individuals seeking healthy relationships, with a series of hers nicknamed "Dylan Does Dating." As her platform grew rapidly, she stepped into a larger advocacy role, even participating in an interview with President Biden. 
Throughout the interview, Biden and Mulvaney have a very productive conversation about trans rights, and she is even able to open up about what her life looks like as a transgender female in America. 
Unfortunately, this opportunity for Mulvaney to break the stigma around transgender discussion led to massive backlash from transphobic individuals, most notably politicians who scolded her for being so open about day-to-day trans struggles, like tucking in public. Many believed the topics Mulvaney discussed should be kept private, and that the kindness Biden showed his guest was unjustified.
"I introduced a bill to stop gender-affirming care on kids & they want me dead. I'm being swatted while fake women visiting Biden are being swooned," said Georgia Representative Marjorie Taylor Greene, scolding the video.
Arguably, the most surprising criticism came from transgender celebrity Caitlyn Jenner. 
"Let's not 'normalize' any of what this person is doing. This is absurdity," said Jenner on Twitter, regarding the way Mulvaney was able to share so openly about her experiences with tucking and the inability to always appear cisgender in public.
All criticism is hard to stomach, but such harsh words coming from another transgender woman in Mulvaney's community? It's rivalries like this that bring peers down instead of offering them the support they need. Jenner's commentary against Mulvaney comes with many negative implications and can be seen as a step backward for support within the trans community, and the LGBTQ+ community as a whole.
"So much of the world already is so against the LGBTQIA+ community, [so] seeing people a part of the community go after others in the community is so frustrating," Quinn said, describing that the queer community is all about shared experiences and support for each other when dealing with backlash. "If people in the community can't be respectful of each other, then how can we expect others to do that for us?"
This idea introduced by Quinn can also be extended to other communities struggling to garner support.
"While it's not the same, it does remind me a lot of the 'girls hating girls' idea, like how instead of the negativity we should be appreciating each other for our differences," Coughenour said, reacting to Jenner's comment. 
Luckily, Mulvaney has proven to be able to handle backlash with grace. She remains her authentic self despite negative comments and looks forward to continuing her journey with her supportive fan base. 
"Dylan is an absolute sweetheart, and she always has such positive videos. I think she has a really great image and always presents herself so authentically," Quinn said, calling himself a fan of Mulvaney's. 
Fans are eagerly anticipating the show tonight, at 5 pm Pacific Time. Mulvaney announced that there will be a live audience for her show, and the seats will be mainly filled with queer creators and Trevor Project representatives. Tickets for the show are still available online for all of her supporters. Tune in to Mulvaney's "365 Days of Girlhood" live stream performance to support her on her journey and donate to The Trevor Project to help queer youth in need.
Leave a Comment
About the Contributor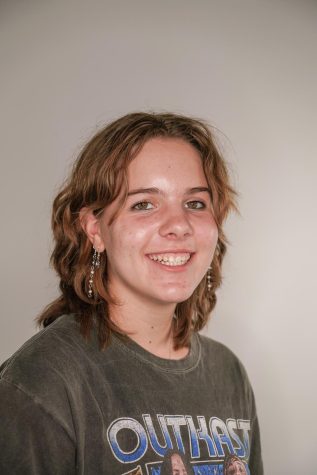 Iben Orton, Staff Writer
Iben is about as quiet as the eruption of Krakatoa, gentle as a Nile crocodile, and cannot keep a plant alive to save her life.When you don't hear her yelling down the summit hallways, she's likely...