The Trials and Tribulations of Tennis
The countdown to May 19 begins
Tennis season is starting up this spring, and Summit is gunning for gold. 
After the Bend-La Pine school district switched from 6A to 5A, an increased excitement about tennis formed due to the presence of new competitors. With a real chance of winning state, more players than ever are ready to head to the courts and give it their all. Varsity girls tennis coach Quinn McAndrews stated that the team's goal for the 2023 season is to win the district title and get as many players qualified for state as possible. He seemed unsure, however, of the team's chances of taking the state title.
"We have a number of girls who have been training throughout the year. We are excited to see their improvements out on the courts and put into action in match play this season," said McAndrews.
Head boys team coach Jake Oelrich presented more assuredly. While hesitant to admit it, he seemed convinced that the boy's team had the ability to succeed.
"We are confident. That's what I'll say. I don't wanna jinx us, you know? We've got a goal, and it's very attainable," said Oelrich. 
Summit junior and varsity tennis player Max Himstreet holds a similar enthusiasm. This will be his third year competing with the Summit team, and he appeared to have some big plans for the 2023 season.
"I think this season is gonna be really big. There's a bunch of players that are really dedicated this season, so I think there are a lot of high hopes for all of us," said Himstreet, who has been playing for the past decade and has ambitious goals for not only his team, but himself as well."If it works out how we've been hoping, me and Zack Olander are probably gonna play doubles this year and we're hoping to go all the way and win state," said Himstreet.
Himstreet and Olander are two of many very talented competitors on the Summit team this year. Oelrich mentioned several skilled senior players as well, describing how with so much competition, the varsity roster is still very up in the air.
"Aiden MacLennan and Otto Haar are some of our best senior players, along with Ben Benetto, Zack Olander, and Drew Salari… we are all very passionate about the team. It's gonna be a good race for what the varsity team is, I have no idea who's gonna make the team," explained Oelrich. 
The girls tennis coaches Quinn McAndrews and Sherry Rogers also spoke about many of the talented seniors on the team, including Stella Williams, Meg Wheary, Taylor English, and Ella Taft. 
Varsity player Stella Williams had high hopes for the season, and stated that her goals for the season were winning districts and state both individually and for the team. This year she'll be playing singles.
"[When playing singles], I like the fact that my successes are my own and so are my mistakes. The downside is that it can sometimes feel a little lonely and nerve wracking to be out there by yourself," said Williams. 
Assuming not everyone is familiar with tennis gameplay, Himstreet was more than happy to provide some clarity. He explained that tournament entry is very selective, and only so many players can qualify and compete in each match.
"In the high school season, you have a roster of 12 people. 4 people play singles and 8 people play doubles—in 4 teams of 2–and then you play dual matches against other schools," said Himstreet.
Summit's varsity teams regularly qualify for districts, at which games are played in rounds until there are only 4 competitors left. Those 4 from each district then move on to state, where the process is similar. Rounds are played until there is just one single/doubles player standing. Given the competitive nature of this qualification process, coaches McAndrews and Rogers described a struggle with balancing the number of committed girls players and court space.
"Given that Summit has 4 courts for practices and matches, the girls coaches do plan to 'cut' players this year, mainly because we've determined it's very hard to give players the court time and amount of coaching that we feel is deserving of players on a team," said McAndrews.
It's useful for players to be able to practice challenge matches along with drills, meaning there can only be 4 girls per court maximum. In order to make this happen, it means that unfortunately not everyone can play. The coaches believe that this new cutting policy will help them develop a committed team for the 2023 season.
"It is our view that a berth on the team is best when it's an 'earned' one," concluded Rogers, determined to form a dedicated team to reach all of their goals for this season. 
Oelrich, on the other hand, had an opposing policy for the boys team. He hopes to create an environment in which beginners can have fun, and more experienced players can focus and get ready for this year's competitions.
"We are not cutting. Truthfully, I started playing tennis when I was a freshman in high school. If they would have cut, I wouldn't have been able to join. And now I love tennis," said Oelrich.
Oelrich felt that while he loves the competitive side of tennis, denying kids the opportunity to play for fun wasn't the right idea, as it's one of his favorite parts of the sport. As such, signing up to play for the boys team this year is highly encouraged.
"Everyone who wants to try out will likely have a spot to practice, multiple days a week if they want to, just come out and have fun," Himstreet said. As further incentive, Oelrich has mentioned trying to attract more of an audience to come and support the team this year.
"As the tennis coach, I'm trying to get a food cart to come and just post up during the match," Oelrich said. 
This way, Oelrich hopes to raise appreciation for tennis, especially as many players feel the sport is regularly overlooked, including Williams.
"I do think that tennis is under-appreciated. It is definitely not very talked about and people don't really watch our matches," said Williams, who felt as if Summit didn't really support their smaller sports teams.
This isn't a newly-arising issue. Many leaders at the school have been working towards garnering more support for under-appreciated athletics. As a member of Summit's Student Council, Himstreet had some insight into future plans to increase engagement in some of the school's less popular sports. 
"This year all of Student Council is focusing a lot on helping represent everyone equally, and so there's gonna be a lot more promotion and advertisements and groups going [to watch]," Himstreet stated. 
Oelrich, who is not only the boys tennis coach but also Summit's Activities Director, elaborated on this idea. He talked largely about some of his hopes for the future regarding school pride.
"In StuCo we're trying to do a spring spirit week this year where there's a home game or match every single day of the week and we'll give out t-shirts and do raffles," Oelrich said.
A larger crowd with a little extra cheering and encouragement can go a long way. You never know, attendance at Summit's tennis matches might just be the nudge the teams need to help them along to winning a state title.
Leave a Comment
About the Contributor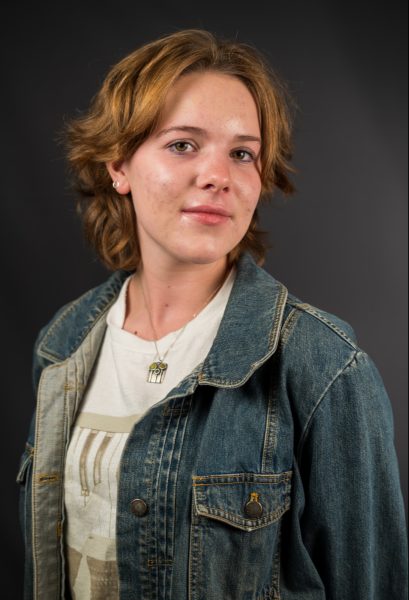 Iben Orton, Opinions Editor
The wild Iben has recently been spotted in the Pinnacle news room. Reports from local journalists describe that the beast has been spending all of her time underwater, listening to music, and watching...