Shame on SHEIN & Their Affordable Swimwear
Sustainable and inexpensive bathing suits you can score somewhere other than SHEIN
With summer just around the corner, it's time to trade out wooly winter sweaters, thermals and beanies, and freshen up last summer's wardrobe. It's time to get rid of those tight jean shorts that barely button or that sheer tank top you wore so much, or that cute blue pineapple bathing suit you lost at the waterpark that you're still searching for, and replace those with a little something more durable and stylish.
Here in Central Oregon, floating the Deschutes river, boating at Lake Billy Chinook, sliding down the Paulina Plunge rock slides or just swimming at Elk Lake for the day are popular ideas when the weather is hot and sunny. In the summertime, Bendites live in swimwear. The classic look consists of a cute swimsuit paired with shorts, sandals and a sunhat. 
The only flaw of that look is the swimsuit itself. Where did it come from? How much was it? By buying this swimsuit, who did I impact? These questions may not seem all that important to you when buying any clothing items, but they should, especially when buying from fast fashion places like SHEIN. Are you really getting the best bang for your buck? 
The fast fashion industry is responsible for high carbon emissions, excessive water usage and overflowing landfills. Buying from fast fashion shops like SHEIN is often tempting because of their low prices and on-trend clothes. But not only do these companies largely contribute to climate issues, but the clothes often sell for cheap and pay their workers—who are often children—with very low wages, too. To make it even worse, the downside of fast fashion clothes is that they're often poor quality, and have some element of discomfort when actually wearing them. The trends and item itself don't even last very long!
When it comes to swimwear, don't you want to spend your money on something worthwhile and durable? I doubt anyone would want to have their bathing suit come off in the water or rip while doing all the fun water activities in the summer. Swimsuits should never be something that one feels uncomfortable or worried about. 
This guide will provide you with more sustainable and less shameful swimsuits that are still stylish and affordable. 
Buying from local shops here in town is a great way to get your hands on a unique swimsuit, while supporting businesses in the community. Vanilla, located in the heart of the Old Mill, is an eclectic boutique that has super cute, timeless swimwear. 
Eva Dauenhauer is a junior at Summit who loves shopping at Vanilla. 
"Their swimsuits are so cute and flattering on everybody," Dauenhauer said. "There's also always a sale [at Vanilla] which always makes my mom happy." 
There's also been a shift for online shopping with sustainable brands in the media. Some of the most popular are Do Good swim, PACSUN and Summersalt. This might be more of a costly purchase, but these swimsuits are durable and high quality. These materials are also more ethical and better for the environment. Some of these brands, too, give some of the profit to other charitable organizations. 
However, buying local can be more expensive since Bend shops often upcharge due to being a tourist-filled town. 
On a less spendy note, an alternative for supporting local businesses is buying swimsuits secondhand. There are many options online like Depop, Thredup, Poshmark, or in-person thrift stores here in Bend. Often many thrift stores give back to the community. In Bend, Humane Society thrift store is a private non-profit shop that is funded by donations and fundraisers. All purchases support the animal shelter operations. By purchasing a suit here, you will help out the local animal shelter which is a win-win. If you're worried about cleanliness, give it a wash a few times in the laundry or buy a suit from a more delicately picked through second-hand boutique like Bag Ladies or a summer yard sale. 
Another alternative for those creative and talented people would be making your own. Summit junior Paige Deke has a passion for making her own clothes and suits.
"I love upcycling things I've thrifted," Deke said. "I use thrifted blankets, shirts, jeans, basically anything that has a cute design and sew it into a stylish item that nobody else has."
A twenty-year-old girl from Bend, Lainie Girvan, created and founded CLEO swimwear. CLEO swim is a handmade swimwear company which uses waffle knit fabric and upcycled materials for her most recent collection.
"I've been so tired of seeing companies take advantage of your wallet only to give back a mediocre product in return," Girvan said. "I wanted to create swimwear that is so versatile yet timeless."
Girvan finds inspiration for her designs from old runway show videos and reseller sites to thrifting unique pieces. What makes CLEO swim different from places like SHEIN is that it incorporates inclusive and accurate sizing. Girvan also uses unedited photos and diverse bodies and models in all of her promotions and websites, unlike SHEIN which often uses photoshopped models and photo enhancing edits.  
"You don't need to have fifty swimsuits to fit in. Invest in high quality materials and designs that actually flatter your body type," Girvan explained.
If your budget is still tight, there's still an option for you! A good 'ole fashion swap. Borrowing from a best friend or sibling's closet is always a good alternative. It's cost-free, but if your sibling is evil like mine, you may have to take up a couple more chores for the week. 
It's also not a bad idea to rewear. If that one blue pineapple bathing suit still fits from eighth grade, then rock it! 
At the end of the day, take the time to get to know where your clothes are coming from. 
"Consider quality over quantity. Consider the talented designers you're disrespecting by buying a knockoff of one of their pieces they spent their heart and soul designing. Consider the disregard the company has on child labor laws and safe working conditions as well as fair pay," Girvan said.
Although SHEIN might be tempting with their low prices, the quality of their products are not so great. There are always better alternatives when it comes to avoiding fast fashion. 
Leave a Comment
About the Contributor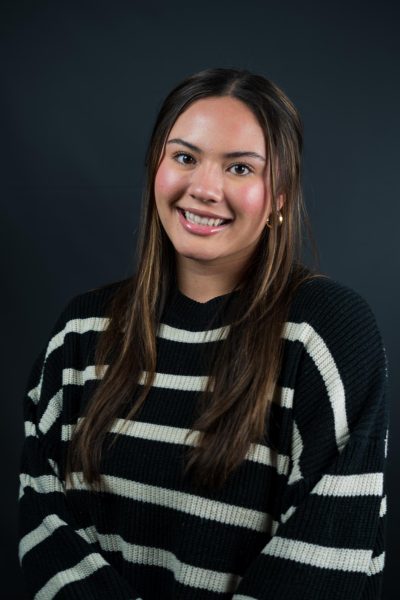 Danielle Evans, Website Editor
When you first meet Danielle, she'll most definitely greet you with a smile. She is bright and fun, and always down to have a good time in and outside of class. She loves music and will most likely be...