You Should Play a Video Game
Wouldn't movies be so much better if you could choose what happens?
Music and movies are widely accepted artistic mediums, both creating some of the largest markets in the entertainment industry, your taste in music or how fond you are of marvel can be major talking points for friends and family. It can connect people or start inconsequential arguments. But, like the cousin your family ignores at reunions, a third medium remains devastatingly underappreciated. Video games are often criticized for being fruitless and potentially harmful, despite how much they truly have to offer. News media has tried to push this idea and are only starting to feel pushback in recent years as studies combating that idea are being published. With all media, there are both meaningful games and trashy cash grabs which should not be lumped into the same category.
Video games offer a user experience that is unattainable in traditional entertainment. In any play, movie, song or painting you cannot contribute to the art, or change the ending. Sure, you can be a volunteer in a magic show, or a heckler during a standup set, but you can only watch. You can't influence the experience. Video games set themselves apart this way, you play the art. Specifically role playing games, or RPGs, allow players to get invested in the characters they are playing as, putting themselves into the story as they make their own decisions. Choosing where to go or what to say grants the ability to see yourself in the story, as if you are the character you're playing as.
Additionally, that uniqueness doesn't sacrifice storytelling, especially in RPGs. Developers often have an entire team dedicated to writing, designing, and casting voice actors for games separate from the more technical side of development. Stories are drafted, pitched and edited until an interesting and appealing story can be properly implemented, often with several endings and story paths that the player unknowingly decides as they play.
The success of these games have even influenced TV and movies in recent years. "The Witcher," a popular video game, got its own show on Netflix in 2019. More recently HBO's "The Last of Us" captivated viewers and put a twist on the classic story first seen in the game The Last of Us part 1 from 2013. And it's not only the stories that traditional media is adopting, it's also the viewer involvement from video games that some try to replicate. In a spin off of Netflix's "Black Mirror" entitled "Black Mirror: Bandersnatch" viewers use their TV remote to choose the characters decisions during critical moments, much like in a video game. If Netflix and HBO, two of the largest streaming services in the world, are pushing video game-inspired shows, then there is clearly value in playing high quality games.
The one thing that can never be replicated by music or television is the feeling of accomplishment video games can give players. Whether players are beating the final fight as blossoms rain from the sky in "Ghost of Tsushima," or pulling a sword from the head of a flying dragon in "The Legends of Zelda," the sense of accomplishment is enough to put a smile on your face or tears in your eyes. 
With so much to offer in such a different way, games are worth playing. Some fear they can't get into it now because they wouldn't be skilled enough, and although there is a learning curve, video games can be one of the most friendly and inviting hobbies for beginners. With so many choices players can find their preferred genre. From playing and connecting with friends to exploring and solving puzzles solo, there will always be a video game that's better than a movie.
Leave a Comment
About the Contributor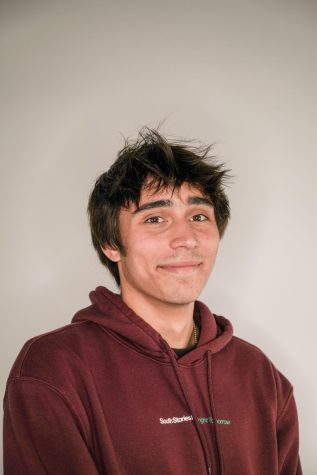 Kian Warnock, Staff Writer
Whether in snow or sun, Kian Warnock is always ready to find adventure nearby. Skiing, biking, and swimming are only a few of the hobbies Kian enjoys, and he is always looking for new activities to do....