Sports: A Lost Opportunity?
Life balance seems to be a continuous problem throughout the lives of teenagers. In a country that revolves around doing the most you can do and being the best you can be, life is filled with school, sports, work, volunteering, clubs and hobbies. Sports specifically, seem to be a point of emphasis over all other options and can prove to be all-consuming before, during and after high school, like one sport in particular: cross country and track. 
Track and cross country are two sports that for many students go year-round, despite the fact that they only have one official season. They have off-season training, specifically in the winter and summer and an even more strenuous schedule during their designated season. Summit High School has produced and is home to many great runners such as the Max twins who headed off to run for Princeton three years back. Some have chosen this path, while others have not. 
Summit senior and running superstar, Ella Thorsett, is committed to run cross country and track at the University of Oregon next year. She has been running for the past six years, usually six days a week, only taking two weeks off from running after both the cross country season and track season. Hours have not only been spent running on her own time but also strength training and going to seasonal practice. While this sport requires a lot of time and dedication, she continues to love it. 
"Although running is a sport that takes a lot of time and commitment, I wouldn't change anything. I truly love the sport and everything that comes with it," Thorsett said.
However, even with this love, Thorsett does admit that it has been hard to time manage all the other aspects of her life with this time-consuming sport. 
Thorsett commented, "I think that figuring out what to prioritize is something that comes with time, and I think that college will help me with my time management, especially because running will become an even bigger part of my life."
Many of her friends are on the team, therefore making it easier to socialize. 
Running year-round has been a huge positive in her life, but for those who aren't heading to college to run, specifically on athletic scholarships, is there a loss in opportunity and time to explore other areas in high school?
Payton McCarthy, another Summit senior and strong runner, is heading off to university in Italy, and despite running since 5th grade, is not running for her college. She planned to continue her running career in college, however, her plans changed when she started to figure out her plans after graduation.
"I realized that I want other things for myself in life because I am going abroad for school. I realized that I wanted that experience [going abroad], more than I wanted the college running experience," McCarthy said. She did later say that she still has a passion for running, and wants to participate in marathons. 
Training can be intense, especially in the regular season. Running Monday through Saturday, McCarthy's off day is Sunday, in which she pursues swim instruction, making her week packed with no real rest day.  
With such dedication, it can be hard to make the decision of whether to run in college or not, especially when one has been running for so long, and gotten close with all the people that make up their team.
McCarthy had different options to run in college, whether it be at MSU or Portland State, but decided to stick with her plan of heading to Italy. She does feel that it may be hard and there could be some regret since her friends have decided to run in college, and therefore may form a tight-knit running community within their individual colleges. Despite this, she is excited about the experiences she will have in Italy and knows that she will find her own community abroad. 
For someone like myself who hasn't pursued a specific sport, or dedicated a lot of time to sports, I find it hard to understand what it would be like to not have enough time to do a variety of things. Although I do work part-time, I feel like I still have a relaxed enough schedule to make time for hanging with friends, sleepovers and dinners. Commitment is an important life lesson and will be a constant in life, however, completely packing your schedule with one thing may make someone feel boxed in. This isn't a path I would take for myself, but I do understand and respect those who want to pursue their passions. Everyone has their own journey, and no two journeys are going to look the same.
At the end of the day, sports are a different experience for everyone. Time management and a good life balance are difficult no matter what. For some it will be a good opportunity for them to run in college, and for others a relaxing break to focus on other things. Whether it's one or the other, there should never be a pressure to dedicate all your time towards one thing or to spread yourself thin. 
Leave a Comment
About the Contributor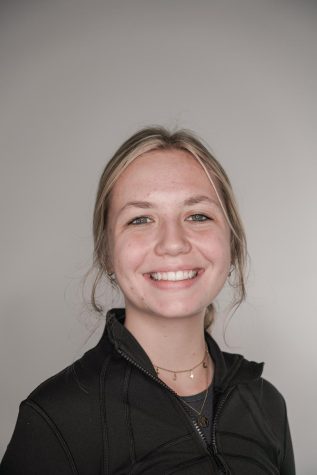 Maria Bartness, Staff Writer
Before, you could find Maria in the cobblestone streets of Southern France, sitting at a parisian themed cafe, whilst eating a croissant and sipping on a "chocolat chaud" (hot chocolate if your french...