'Stop Procrastinating the Future'
Deschutes Youth Climate Coalition and Fridays for Future's advocacy and action takes over Bend
Driven by a passion to advocate for the environment, students and community members across Bend have taken to the streets in recent months to protest for the planet's future. On March 3 and April 20, climate strikers adamantly expressed their demands to the public downtown. However, this advocacy will not end there.
From local to nationwide and even all over the world, people and many students relentlessly stand up and speak up for the sake of their home. They believe Mother Earth is the planet that deserves campaigns and galas, odes and slam poetry, instead of putting the responsibility on individuals or prosecuting big corporations, politicians and oil companies. 
All ages of human beings are striking, protesting and marching with tightly-held cardboard signs depicting why tomorrow is too late. Multiple organizations have been condensed to the streets of downtown Bend thanks to a handful of hopeful youth. Within these groups, plans and demands are brewing and students are prepared to skip out on government-funded education to combat that very legislation.
Students often express that acquiring peers to become involved with climate justice, even in the slightest way, can have a crucial impact. Said justice takes shape in schools as environmental clubs go on strike and even spread climate news, although teens are not the only lives affected that seek action. 
Here in Central Oregon, a branch of Fridays for Future kicked off downtown organized by RPA (Redmond Proficiency Academy) sophomore Amelia DuBose. DuBose created Fridays for Future Bend in 2022 in response to the urgent climate crisis. She felt such a broad organization could make a difference if introduced to her hometown, which she believes consists of a majority of progressive minds. 
"Like a lot of people I have a lot of climate anxiety when it comes to my future," said DuBose. "I didn't really hear about individuals talking about [climate change] around town. Or there were no real national conversations [that I heard] from politicians about it."
Aspiration sparks growth, yet strikers such as DuBose worry that consumers can only focus on their downfall: media and material. She believes that residents of Bend become engulfed in a fantasy land of wilderness, accessibility and wellness, and such a safe haven of a town can often block out the harsh reality of the changing planet: wildfire smoke clouding clear sky and minds, although tree stumps and processed food wrappers still decorate the green Oregon grass staining that image. When a debacle reaches a consumer and affects their rhythmic flow of life, that person must focus on supporting the ground supporting them.
What the youth of the world are doing is exactly that: protecting the present. However, most movements online advertise preventing a future that has already arrived. Teens post to their social media stories posts displayed by a generic reporting account for clout.
One Summit student, Amanda Uri, has always deeply cared for the environment and her home. Also a participant in the recent strikes, Uri persistently prioritizes the planet and any related endeavors.
"I just want people to show up. A lot of people tend to be really vocal on their social media, but they don't show up in person," said Uri. "If you want action to happen, you need to actually take action and not just post about it."
DuBose's approach to Fridays for Future allowed the program to remain inclusive and impactful while applying demands to local calamities. Such municipal developments with reversible properties decrease setbacks statewide. These correlations, along with personal motives, inspired DuBose and her objective to achieve climate justice.
"It got to the point where I couldn't not do anything, and I would kind of go crazy if I didn't [take action]. Fridays for Future was just so accessible," DuBose said.
With a goal of continuing weekly strikes, local demands currently include that the GTN XPress pipeline expansion be stopped, the City of Bend adopts the "Electrify Bend" program and the state keeps its climate pledge of zero energy emissions by 2040. National demands include that mass banks divest immediately from fossil fuel investments and that the United States keep its climate pledges.
Deschutes Youth Climate Coalition, a local group of activists that partner with Fridays For Future, focuses on eliminating fossil fuel support and terminating the GTN Xpress pipeline from the Pacific Northwest. 
Although progress has been made as a result of past marches, most, if not all, of the demands are going to take some serious petitioning and government meetings with continued persistence. None of the demands have been met. The demands for GCS (Global Commons Stewardship index) are GTN Xpress, bank divestment and fossil fuel lobbying, none of which have been accomplished either. 
"Climate change is a huge issue for our generation, but specifically, there are a lot of local issues we are hoping to address that exacerbate climate change both internationally but also here in Central Oregon," said on-scene striker Freddy Finney-Jordet. Finney-Jordet has much hope for the future but also much more dread for natural disasters elevated by global warming. Wildfires are the most intimate stressor that personally affects him.
Finney-Jordet will join fellow young advocates striking weekly, every Friday at 5 pm, situated at Peace Corner. These gatherings are yet another effort to pressure large banks and accomplish demands.
Yet, activists acknowledge that revolt doesn't have to be the only solution; adjusting everyday habits is a convenient way to adapt to sustainability. The "Green Issue" of the Source Weekly newspaper showcases a few articles, suggesting tree-saving bidets and catching up on recycling strategies.
Nonetheless, involvement with any strategy contributes to the movement toward climate justice. Deschutes Youth Climate Coalition, 350Deschutes, Vocal Seniority, Green Leadership Coalition and Summit & Bend High School Environmental Clubs all took part in raising the voices of the marches. 
350Deschutes addresses climate injustice through policy, actions, and education across Oregon. The organization's most notable, current petition is the Electrify Bend Petition. A signed letter to the Federal Energy Regulatory Commission (FERC) to stop the GTN Xpress pipeline remains at the top of their priority list along with FFF and DYCC. Fighting against fossil fuel funding, Satay Austin-Opper, from 350Deschutes, focuses on dispersing the petitions amongst participants at the strikes.
"[The march] felt really empowering and great to have so many eager people there. I want people to know it's time to start standing up and start fighting for our future…start standing up for change," said Austin-Opper. 
Joining a handful of other leaders, Austin-Opper takes hold of her powerful voice and reaches every participant's heart and head with impactful speeches that remind people of the true downfall of society, through static-ridden megaphones.
The strikes that took place on March 3 and April 20 will not be the end. Come and unite with people who care and asseverate what generations to come deserve. Bring friends, pets and ambitious people every Friday at 5 pm and succor Fridays for Future in their journey to justice. 
Grand Master Oogway was right, except the present is no gift, and the future is not much of a mystery. Climate advocates adamantly stress that the structure of society supports people thirsty for profit who poison the land, air and sea. The youth of Summit High School, Central Oregon and the world demand action now.
Leave a Comment
About the Contributor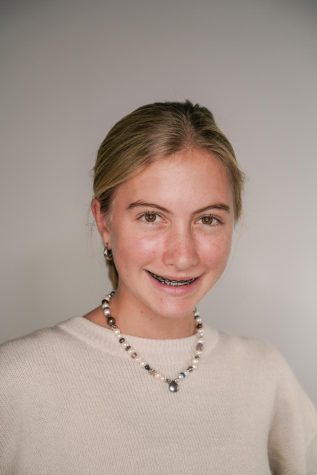 Madelyn Walsh, Staff Writer
Continuously procrastinating school work, Madelyn Walsh always has time for a new opinion to be loquacious about. Amongst many stuffed shelves of half-empty sketchbooks and split-ended paint brushes, music...