TikTok: Spearheading a Chinese Overthrow
TikTok is facing an uncertain presence in the United States as information about its harmful intentions with user data becomes more apparent
 Once seen as a connection to the outside world during quarantine, TikTok is now seen as an addictive outlet that is giving China easy access into our lives. 
 Speculations about the social media platform have been circulating since it was redesigned from Music.ly to TikTok when sold to the Chinese company ByteDance in 2017. ByteDance has since changed the platform's terms and conditions which define the amount of access they have to user information. Because practically no one reads the Terms and Conditions, anyone who first downloads TikTok doesn't know how much of their lives will be accessible to ByteDance. 
 In August 2021, UFC Commentator, comedian and actor Joe Rogan read TikTok's terms and conditions on his Podcast, "The Joe Rogan Experience", and he realized how much user information ByteDance has access to. They can see your IP address, your keystroke patterns (what you type), your battery percentage, and even your microphone settings (the audio your phone records). TikTok can use your account information to see your activity across all your devices. 
 FBI Chief Christopher Wray suggested at the Homeland Security Hearing in Nov. 2022 that because China is a socialist country, the Chinese government can make the companies do whatever they want, in terms of sharing information or being used as a tool for the Chinese government. TikTok's Algorithm can give the Chinese government access to the software of millions of devices, which could compromise the privacy of those devices. With over 100 million American users, the Chinese government has access to a third of the American population's data. 
 ByteDance has come forward and confessed that non-US employees have had access to American users' phone numbers and birthdays in the past.
 Wray has spoken out numerous times concerning the threat TikTok holds to America's national security. 
 "The biggest threat we face as a country from a counter-intelligence perspective is from the Peoples' republic of China and especially the Chinese communist party," Wray said, "They have a bigger hacking program than that of every other nation combined. They have stolen more of America's personal and corporate data than every nation combined."
 In August 2020, former President Donald Trump signed an order which threatened to ban TikTok from all American Devices if the platform was not sold by ByteDance to another company. Although later in December, Federal Judge Carl Nicholas blocked Trump's ban claiming he overstepped his presidential duties. 
 On March 8, the white house issued a ban over TikTok on all government-issued devices in fear of espionage which is to be put into action 30 days after the announcement.
 The concern for spying increased when a surveillance balloon was seen floating above northern Idaho on Jan. 31 but it wasn't shot down until Feb. 2 in Montana. Montana is a sensitive area since it stores the Air Force's 341st Missile Wing and their Minuteman III intercontinental ballistic missiles.
 Jesse Deperro, a Senior at Summit High School who once had TikTok but decided to delete it after finding out about the privacy issues said, "TikTok is basically a Chinese spy balloon but in the pockets of millions of Americans, many of whom are teenagers." While spying on government officials is a greater risk, millions of teenagers' data across the country are also in danger of being used by the Chinese government. This means they have access to minors' personal information which can be leaked and exploited. 
 Oliver Meredith, a Junior at Summit High School is worried about the damage Chinese government interference could have on western society. 
 "Some say it's being used by China to unwind the fabric of American culture and that's really scary…The scariest thing is that the Chinese government is blatantly spying on minors from a rival country and the anti-nationalist effect they're creating against our country," Meredith said. 
 There is speculation that the Chinese government is using the TikTok algorithm to slowly push American youth towards posts and feeds that go against the US which creates a mass effect of disdain towards the American government.
 "TikTok is owned by the Chinese state which can use the app to track devices, and they can influence what users see, which I believe crosses the line between free speech and a threat to our national security from a communist country," says Deperro. 
 TikTok, once seen as a harmless way to connect the world during a time of isolation is now being seen as a threat to Western culture. As engaging as TikTok can be, it is designed to be addictive so you will be on the platform longer, giving ByteDance more data about you.
 "No country presents a broader, more severe threat to our ideas, our innovations, our economic security than China, and they are targeting our innovation, our trade secrets, and our intellectual property, on a scale that's unprecedented in history," Wray continues, "The FBI is keenly focused on the China counterintelligence threat, we are now moving at a pace where we are opening a new China counterintelligence investigation about every twelve hours."
 As TikTok's future in America is unknown, the threat continues to grow with more and more Americans learning about the issues of an app that has had many people staring at their phones for years.
Leave a Comment
About the Contributor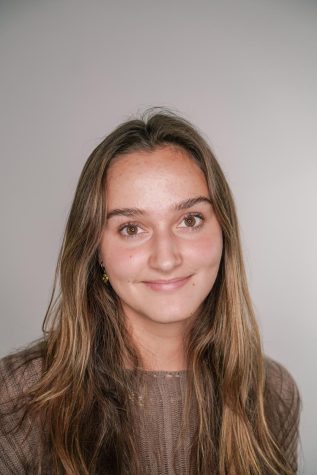 Eleni Adams, News Editor
Eleni Adams is this year's News Editor! Adams loves learning about global as well as local current events within her community and how it will affect not only herself but others around her. Whenever She's...