Storm Track: Shining Stars
Nick Leary, Tadhg Brown and Ella Thorsett are three outstanding competitors for Summit track and field who have the potential to contribute to the Storm's success now and in the future.
Since Summit first opened its doors in 2001, the Summit High School Track and Field team has been notorious for its excellence and unrelenting ability to win. They have won a whopping 17 state titles in 22 years. This current Summit team has oodles of talent and carries the potential to be the best track team to compete for the Storm, as 12 seniors will go on to compete at the collegiate level after this season. 
When asked about which individual athletes were bound to have successful seasons, Coach Dave Turnbull didn't have an answer, due to how many promising athletes the Summit program has. A few names mentioned were Nick Leary, Tadhg Brown and Ella Thorsett, however there were a multitude of others. 
Nick Leary, a Summit sophomore, signed up last year to run track for his first time. As a freshman, Leary competed in soccer and basketball. In the spring he aimed to do track as a way to stay in shape and improve his speed, along with being encouraged by his father who ran at Long Beach State University.  
After posting an impressive time of 11.75 last season in the 100 meter, Coach Turnbull knew Leary was special, encouraging him to train in the off season. Leary spent the Summer training individually and spent his winter with Mondo Track Club, Turnbulls club team. Leary ran a PR 11.49 in the 100 meter sprint on March 31, at the Summit Decathlon/heptathlon meet, earning a spot on the varsity 4×100 meter relay team. 
"I'd like to win regionals and go to state," said Leary.
This goal isn't far-fetched for Leary, as his 11.49 PR currently makes him the fastest 100 meter runner at the school, which would put him at the tenth spot in the 5A state meet last year.
Beyond high school, Leary is interested in running at the collegiate level however understands the hard work he needs to continue to put in.
"I do want to run track in college, but I have a lot I need to improve on," said Leary. 
Junior Tadhg Brown is a multi-event athlete, competing in track since 7th grade. His mom, Yvonne Naughton, is one of the jump coaches at Summit. The long jump is an event that Brown excels in, as he was the best long jumper for the Storm last year, with a mark of 20'8.75. On March 31, at the Summit decathlon/heptathlon meet, Brown jumped a whopping 21'3, a personal record. 
"Hopefully I can place top 3 in the long jump at state, maybe win it, my mom wants me to jump 23 feet," said Brown.
Last year, as a sophomore, Brown was also the best 100 meter sprinter at Summit with a time of 11.23. 
"I want to get into the 10.8 range, that would get D1 coaches to look at me pretty seriously," said Brown. Who has aspirations to compete at a successful college program after high school.
Ella Thorsett, a senior, began track in 6th grade, encouraged by her mother who ran collegiately at Wisconsin then signed with Nike runner for 8 years. She runs long distance and competes on the cross country team as well. As a Junior, Thorsett posted a time of  9:47.20 which earned her the 4th place spot for the 3000 meter run in the 6A state meet last year. 
"I always try not to have super high expectations when it comes to running, However, I hope to break the school record in the 1500 and the 3000". 
In October, Thorsett publicly announced her commitment to Oregon, continuing her running career at a collegiate level. Coming off back to back state titles in cross country, Thorsett knows what it takes to compete at the highest level.
"I'm excited for the running community in Eugene, and to be on such a high powered team," said Thorsett.
Coach Turnbull is more than confident in his team's chances to win the state championship this season. 
"We just have so many athletes that will continue on to compete at a collegiate level," said Turnbull.
Nick Leary, Tadhg Brown, and Ella Thorsett will have important roles to get their team a state championship. 
Leave a Comment
About the Contributor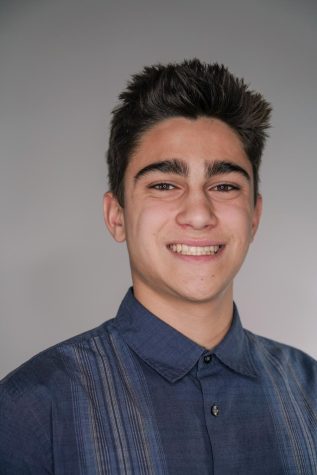 Kian Taylor, Staff Writer
When Kian Taylor isn't exploring nature, running track, or spending time with family, you can find him shooting hoops on the basketball court. Kian enjoys eating home cooked "Tachin", a Persian dish...