Another Successful Summit Thunder Pageant
The process of planning and executing the Thunder Pageant
Year after year the Thunder Pageant, a long time-honored tradition at Summit, fills the auditorium with students, teachers, parents and community members to watch pairs of seniors dance, act, sing, tell jokes and more all to raise money for our current Sparrow. 
Sparrow Clubs USA is an organization that pairs a local child with a life-threatening or life-affecting illness with schools around the US to help support them financially. Sparrow Clubs USA aims to empower kids to help other children in need of medical help. Sparrow Club operates well in schools because the focus is shifted towards community service instead of solely donations and any kid can help make a difference by volunteering. Summit's Sparrow this year is Henely, who was diagnosed with B-cell Acute Lymphoblastic Leukemia, is now in medical remission and on the road to recovery. 
The Thunder Pageant includes ten selected senior pairs who are committed to fundraising and partnering with local businesses to raise funds for Henley.
Summit seniors are proud to join the Thunder Pageant to help give back to the Bend Community. 
Summit senior, Ella Schwindt had a busy, but amazing experience participating in Thunder. 
"The process was a lot but also really fulfilling. We spent hours talking about what we would do for our talent, our shirts, but most importantly how we would raise money. We reached out to endless businesses and set up fundraisers, donations, raffle items, etc. Executing it was easy with the help of some really kind people and local businesses," said Schwindt.
The Thunder Pageant is one way seniors are able to help out their community and get involved in changing someone's life. 
"Jackson and I wanted to get involved in something good throughout our school community and knew we could make a positive impact to help Henley! For me personally, I lost my grandma to the same type of cancer Henley had and wanted to help her and her family out because I know how hard it can be to have a loved one go through something like this. It's been an incredibly fun and meaningful experience and I think everyone else involved can agree," said Schwindt.
The notorious Thunder Dance is always shown at the Thunder Pageant, as well as assemblies leading up to the Pageant. The Dance Captain, Paige Leonardo, worked with the senior pairs six weeks leading up to the event to help make the Thunder Pageant a success.
The seniors will be judged during the event to help decide who will be the ultimate Thunder royals. Carefully selected teachers are the judges, and Geneva Grube, Student Council Personal Relations, along with all of the Student Council have worked hard to plan the pageant. Jake Oelrich, the Activities Director and Ms. Okamoto, the Theater Director, also gave their time to make the pageant a success. The overwhelming amount of support the Thunder pageant receives from Summit and the Bend community is what makes the Thunder Pageant so significant.
Leave a Comment
About the Contributor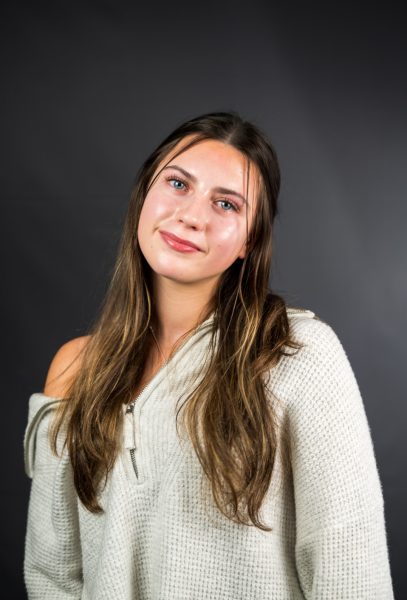 Josephine Hall, News Editor
Often found working through a pile of homework, while listening to music, Josephine Hall—a junior News Editor and writer—is excited for this year's paper. Whether it's tennis, schoolwork, long...