The Pressure of Tipping
Inflation continues to rise—especially in the restaurant industry—and as prices of meals get higher, so does the tip
Tipping, which was once a form of appreciation has now become a normalized act and the pressure behind it has become an annoyance.  
The minimum wage of Oregon, specifically in Deschutes County, is now at $13.50, although it is not common to find jobs starting at that wage. Many jobs begin at $15 an hour, if not more. When browsing Indeed, results showed restaurants like McDonalds hiring at $16 per hour and Hablo Tacos hiring at $15-$17. Retail stores such as Lush Handmade Cosmetics hiring at $15.27 and Macy's hiring from $15-$18. Both of these industries are showing similar areas of starting wages.  In a poll taken by Summit students, when asked their hourly rate, many stated prices from $15 to $28, for both restaurant and retail industries.
So, originally, tipping was to make up for the lower hourly pay tipped employees receive. Should we still tip if they are getting paid the standard minimum wage for delivering reasonably expected service?  Or are we just tipping so restaurant staff won't hate us or spit in our burrito?
Whether you dine in at a restaurant or grab a coffee at Dutch Bros, a similar question is asked: "Do you want to tip today?" There is no correct answer, and there are other factors behind it. It is first deciding whether to tip or not but then deciding what percentage feels fair.
What's a reasonable amount? 15%?  20%? After conducting a survey with Summit Students about tipping, 55.2% of students stated that they tipped 20% and the second majority was 31%, saying they tip 15%.
Should we be tipping this much? Do we need to tip all the time? Some may not feel the need to, especially if it's a quick stop, like getting coffee. Others may want to give something extra to employees, like at a fancy restaurant. However, with inflation on the rise, the prices of food and meals have gone up, causing the overall tip to grow as well. Combined, these costs may result in a "tipping point" for demand for eating out. Restaurant owners and employees may be forced to reduce costs somewhere to keep people dining out, and tipping may be the only element within their control.
Leave a Comment
About the Contributor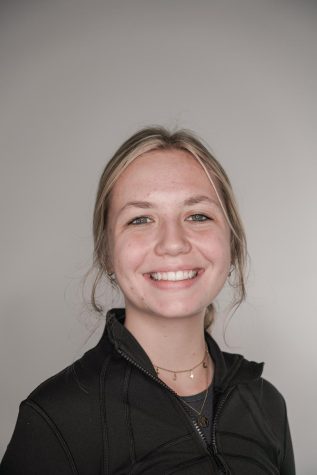 Maria Bartness, Staff Writer
Before, you could find Maria in the cobblestone streets of Southern France, sitting at a parisian themed cafe, whilst eating a croissant and sipping on a "chocolat chaud" (hot chocolate if your french...