JVKE: An Artist That Warms the World With His Music
How this underrated artist takes listeners on a emotional rollercoaster through his powerful music
JVKE (pronounced Jake) is an 21-year-old American singer-songwriter that became popular during the height of the COVID-19 pandemic. His release of "Upside Down" on Tik Tok catapulted him to fame; soon after, he released his song "golden hour," which peaked at number 10 on the Billboard Hot 100.
JVKE expresses his emotions through lyrics through his songs and ballads. The use of powerful beats and poetic lyrics certainly shines, with sweeping orchestral high notes blending seamlessly with a grounding base that makes the core shake. 
In JVKE's album "this is what _ feels like " he sings about the emotional and turbulent journey that one takes as two people fall in love, and eventually lose feelings for one another. Through the slow changes of tone in his music—whether it's the instruments being used or the lyrics—JVKE showcases massive musical talent in his albums and songs.  
JVKE starts his story with the song "this is what falling in love feels like." The song starts with a short violin solo, with bird calls in the background, which serves to create a euphoric, dream-like state. Huge crashes from the keyboard give this dream an upbeat tune. JVKE describes the sudden rush of falling in love, while giving the listener feelings of happiness and joy.
"golden hour," the third song in the album, talks about the special moments that one witnesses when they are with the love of their life. The song starts with a piano solo, as JVKE paints a scene where he is driving with the woman he loves.  At the end of the song, the piano slowly fades out, indicating that happiness has started to fade away. 
We now enter the fourth phase of love; Heartbreak. In JVKE's song "this is what heartbreak feels like," a slow, distorted piano riff from the last song signals that the love has stopped. JVKE envelopes the listener with emotion as he shares the feeling of denial and anger from a breakup with a partner who was lying and cheating. 
As the album continues, we now hit one hardest parts of love, grief. The seventh song in the album "this is what sadness feels like" starts with an acoustic guitar playing over the sounds of thunder and lightning, signifying the sadness someone feels after their ideal relationship ends up being just a dream. Halfway through the song, a soft beat of a harp leads us into a sped up beat, and the song turns from sadness to resent.
We now enter the final stages of love, acceptance and eventually loving someone new. The tenth song in JVKE's album, "this is what falling out of love feels like " starts with an upbeat tune as JVKE begins to accept the fact that his lover doesn't love him anymore, and now he describes growing out of it. His last song, "i can't help it"—referencing Elvis Presley's famous song  "Can't Help Falling In Love"—signifies the beginning of a new relationship with someone else. 
Overall, JVKE's musically diverse prowess makes this artist a "must – listen" and it will certainly satisfy the average music lover.
View Comments(1)
About the Contributor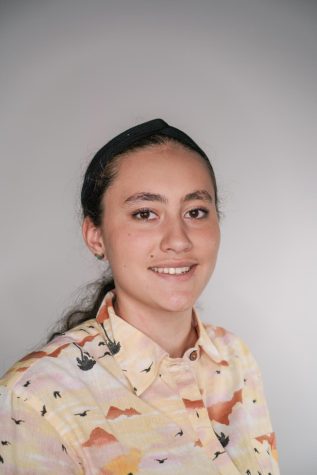 Gabi Fernandez, Staff Writer
When she isn't at school, you can find sophomore Gabriella Fernandez cuddling with her French bulldog Coco while working on her newest art piece. Aspiring to become an author and a Character artist at...