We Can Buy Our Own Damn 'Flowers'
Miley Cyrus has taken back her power and has allowed many other women to claim theirs as well
A list of Miley Cyrus-approved things I can do without a man: "buy myself flowers," "draw my name in the sand," "talk to myself for hours," "take myself dancing," "hold my own hand" and last but not least—"love myself."
After rising to fame in the early 2000s Disney sitcom "Hannah Montana," Miley Cyrus fell down a path of reckless decisions, deeming her a "ruined" Disney star. But now her new song calls out her ex-husband, famous actor Liam Hemsworth, and claims her worth—and power. 
Before this new song, Cyrus was the center of controversy for many years throughout the 2010s, constantly receiving criticism for being herself and "exploiting" her body. A new leaf seems to have been turned over as her new song gathers a large following of girls and women alike admiring her reclaim of power and being inspired to do so themselves.
After starring on Disney Channel, Cyrus hoped to create a more mature public image. To the dismay of the public, this new attitude included [but was not limited to] "intimate" pictures being leaked, a video of Cyrus taking a bong rip of salvia, and pole dancing at the Teen Choice Awards. 
Throughout this time period, Cyrus began to date Hemsworth for the first time after co-starring with him in the movie, "The Last Song" which was the first of a few movies in her new era that received a good deal of criticism. Later, "Wrecking Ball" was released, becoming Cyrus's only Number 1 hit until "Flowers" was released in 2023, 10 years later.
The bad press after "Wrecking Ball" was quite prominent. The rather sensual music video involved her holding onto a chain and swinging while sitting on a large metal ball, first wearing a tank top, underwear and red Dr. Martens, and later wearing nothing but the red boots.
In a 2013 negative review in the Guardian, Michael Hann wrote, "the Wrecking Ball video doesn't demonstrate a woman exploring her sexuality, it depicts a woman exploring the iconography of porn." The comments under this story ranged from those agreeing with Hann's interpretation of Cyrus's "obvious" lack of "self-respect" to those against his review using words like "slut shaming" to jokes asking "what the sledgehammer tasted like"—if you are wondering what that means, Cyrus sexually licks that construction tool throughout the video.
Though these comments (and many others) didn't seem to hurt her chances of winning Video of The Year at the VMAs—The official YouTube music video has over 1 billion views, Cyrus was condemned for her appearance in her 2013 hit. 
From what she wore in performances to what she didn't, the "Party in the USA" singer was constantly put on blast for being inappropriate; 9 years ago this may have been the case, but the tide seems to have shifted.
In her new music video, Cyrus is filmed working out in just lingerie, in the shower—naked—and dancing in an unbuttoned suit with nothing under it. Instead of the scrutiny, Cyrus was met with in "Wrecking ball," the lack of clothing in her new video seemed to inspire body and self-positivity.
"Everything about this is a beautiful piece of art. The release date, the dress, the hairdo, watching your literal home burn down during the tragic fire, the workout, the self-love, the response to Bruno Mars ("should've bought you flowers, held your hand, etc"), the black suit," said a commenter under the Official YouTube music video—which has over 200 million views in four weeks.
With a 10-year gap, society finally seems to be embracing the art of Cyrus. The confidence and power shown in the lyrics and music video of "Flower" are spreading to females everywhere, especially the newest generation. 
With 12 more songs coming out in March on Cyrus' "Endless Summer" album, "Flowers" is only the beginning of this creative trend of self-love, and I, for one, can't wait to see more people exhibiting confidence that Cyrus has been exhibiting for so many years.
From the beautiful villa to the gold dress Cyrus wore with her hair up, rumors of the meaning of these little moments in the music video of "Flowers" have sparked conversations. The house shown as Cyrus dances through is said to be the place where Hemsworth would bring women to cheat on Cyrus. The gold dress is practically identical to that of Jennifer Lawrence when she accompanied Hemsworth to an award ceremony shortly after the divorce—with rumors of an affair.
These little symbols scattered throughout go along with lyrics that seem to be a response to Bruno Mars's song, "When I Was Your Man," which fans speculate Hemsworth previously dedicated to her. A line from Mars' song, "That I should have bought you flowers," had the response, "I can buy myself flowers." Another line, "And held your hand," had the response, "And I can hold my own hand." The lines are consistently about the ways Cyrus didn't need Hemsworth or any man—and neither do we. 
Other mysterious hints were littered throughout. On the "Your Favorite Thing" podcast, Cyrus' sister, Brandi Cyrus—who hosts the podcast with Wells Adams—weighed in on the so-called "easter eggs."
Cyrus mimicked Hemsworth's simple black suit from a red carpet premiere attended with Cyrus where he reportedly asked her if she "could behave for once" after she was seen making an over-the-top licking motion.
Brandi Cyrus continued to reveal her sister's genius and commented, "Only Miley knows the truth," referring to the possible hidden messages sprinkled throughout. Listeners may not know the truth, but that has not stopped them from tacking meaning throughout the song and placing Hemsworth as the reason the song was written.
Due to the theme of self-love that has been attributed to the song, girls have started to confide in her TikTok comment section with messages like, "Definitely a work of art, a masterpiece…! She's right when she said I can buy myself flowers." Another comment defines this song as exactly the confidence booster they needed. Cyrus's song seems to be the beginning of a new 2023 theme—just like Cyrus sang in the song, "I can love me better than you can," which seems like something every woman—and man—could benefit from.
Leave a Comment
About the Contributor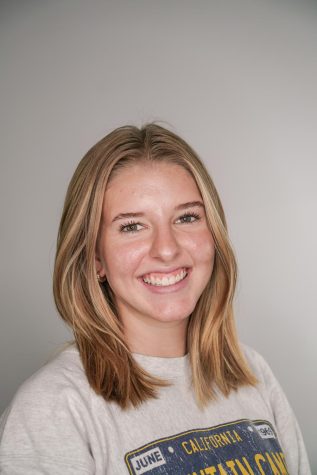 Sarah Hawkins, Opinion Editor
Meet Sarah Hawkins, the opinions editor. When not busy writing for this class, Hawkins is digging in her cleats on the lacrosse field or wandering around town with friends. Hawkins enjoys creative writing...