A Therapeutic Trip
Powerful, therapeutic medicine may be growing in your backyard.
The use of psilocybin and other psychoactive drugs, such as ketamine, are working to cement themselves in psychiatric and therapeutic fields as safe and effective treatments for several mental health disorders.
In 2020, Measure 109 passed in Oregon, making it the first state to legalize the use of psilocybin, more commonly known by its recreational name, "magic mushrooms." Though the process of making it available has been a trying one, critics of the measure argue that it was far too early in the research process to pass a law allowing psilocybin to be prescribed. Largely citing the fact that the substance had yet to enter the third phase of the FDA's approval trials, a strong opposition has left the regulations around the manufacturing and distribution of the drug in a sort of legal limbo. In the meantime, however, some have decided to create new practices using ketamine therapy. 
Now, more than ever before, teenagers are struggling with their mental health. This sudden spike in mental health crisis over the past few years is largely due to the impacts and effects of the COVID-19 pandemic. According to the Center for Disease Control (CDC), "more than a third (37%) of high school students reported they experienced poor mental health during the COVID-19 pandemic, and 44% reported they persistently felt sad or hopeless…" opposed to 37% in 2019.
Unfortunately this doesn't come as a surprise. from 2009 to 2019, the CDC reported a 40% increase in persistent feelings of sadness or hopelessness in U.S. high school students. Though the mental health crisis extends further then just students—in some cases, causing parents to take out their frustrations on their children. The CDC reports that during the COVID-19 pandemic, 55% of students reported emotional abuse from parents, via swearing at, insulting or putting down the student. Additionally, 11% of students reported physical abuse from their parents during this time. With the issue worsening, some are looking for new remedies, though the full effects are still unknown. 
Bend's Bright Mind clinic is one of the many clinics around the country paving the way for the use of psychoactive medication to treat depression, anxiety, PTSD and other disorders. Currently, Bright Mind offers ketamine treatments, as well as Transcranial magnetic stimulation (TMS) to patients that are struggling with their mental health. However, ketamine therapy treatments are reserved for those with more persistent disorders. Most of the patients at the clinic have what is known as "Treatment Resistant Depression," which is defined by the FDA as an individual who has completed at least two adequate trials of antidepressants over the course of two years, without any evidence of improvement.
This alternative form of treatment naturally has unique goals. Dr. Amy Erber, the owner of the Bright Mind clinic, outlined the goals of treatment as "to help people regain that sense of wholeness," offering the patient a new perspective on their condition, in hopes to inspire change from within. 
The treatment cycle typically lasts five or six sessions with each treatment lasting about two hours. Sessions take place in a dimly lit room with serene music playing in the background. Blankets and an eye mask are offered to the patient, all in hopes of making the environment as calm and comfortable as possible. After the ketamine is administered, one of the providers will help guide the patient through a talk therapy session about their experience and what they are feeling. Later, these notes are sent to the patient's standard therapist, so they may further discuss their experiences taking ketamine with them.
The treatment offered by Bright Mind is not exclusive to only their clinic, however. Depending on which practice one visits, the treatment can vary widely. 
"With ketamine, even anesthesiologists can administer it in a clinic—anybody can,"  said Dr. Erber. At some clinics, known as infusion clinics, you experience the ketamine alone, without the guidance of a healthcare provider, despite the intense negative reactions patients may experience from the drug. "That's why it's important for me, where I work, that the patient is not alone and that we have people who are trained in ketamine assisted psychotherapy," Dr. Eber stresses. 
Psilocybin is a very different story. The regulations around psilocybin are the only thing preventing its use in medicine currently. Laws around manufacturing have left programs, dedicated to training medical professionals on how to treat patients, without access to it. Measure 109 was merely the first step down the path that will eventually lead to the widespread use of psilocybin. However, until treatment methods are fully developed, the use of psilocybin is still only something to come. Despite this struggle, many are still hopeful that the beginning of a new therapeutic era is in the future. 
Not all of these drugs are the same—in fact, not all ketamine is the same. Recently a new type of ketamine called S-ketamine, or Spravto, has been developed for use specifically to treat mental health disorders. The drug is administered through a nasal spray and is offered at two different doses; however, this does come with some drawbacks. Dr. Eber says she prefers to use racemic ketamine, the long term industry standard, " [Racemic ketamine], the one that the bulk of the clinical trials for depression and other mental health issues were done with, and that's the one that has been legal since the 1970's."
Health Insurance does not cover racemic ketamine, although it does cover the cost of S-ketamine treatments. It is likely that insurance will help cover the costs of more psychoactive treatments in the future—such as psilocybin—but for now, many of the ketamine treatments available are being paid out of pocket. "We're all set up to start being able to provide Spravto just in the spirit of increasing access and making it more accessible to everybody," Dr. Eber explained. She's hopeful that all ketamine therapy will be covered by insurance someday. 
With depression and other mental health issues becoming more of an issue in the modern world, those looking to new solutions are excited to share their findings and experiences with the world. Psilocybin and ketamine have always been seen as dangerous and were never considered for medicinal use because of it. However, a new light has revealed a much friendlier look for the two. This new chapter in therapeutic strategies has left Oregonians curious to see the long term impacts of these drugs, and with even more treatments just around the corner, there is no sign of the trip coming to an end
Leave a Comment
About the Contributor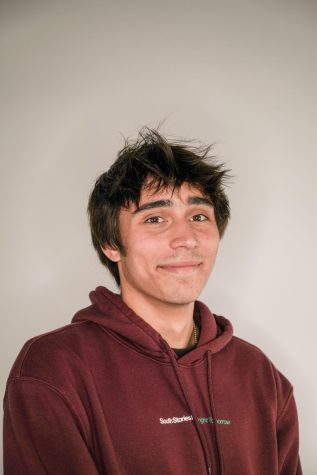 Kian Warnock, Staff Writer
Whether in snow or sun, Kian Warnock is always ready to find adventure nearby. Skiing, biking, and swimming are only a few of the hobbies Kian enjoys, and he is always looking for new activities to do....