Summit Football Sets Its Sights on the 2023 Season
Summit's Football Team ended the 2022 season with a State championship in hand. So, what could next season look like?
After taking home the 5A football state title last November, Summit players and coaches have expressed optimistic views for the future, despite losing the graduating class. This past season, students had been on the edge of their seats, each Friday eager to watch Summit secure a victory. They started their season with a close loss of 19-12 against Tualatin, however every game after that was a win, making their overall record 13-1.
With all the seniors graduating this year, the question in mind is how will the remaining players of the team live up to the success of this past year? Is there pressure to go for another championship next season? Head coach Corben Hyatt expressed a positive outlook on the future 2023 football season.
"Every year is a new challenge. We will need to find a new identity, see who steps up in the leadership roles and in the off-season. I think the culture we have built will lead to us being a successful team next year," said Hyatt. Summit junior, and varsity lineman, Braden Bailey commented on how he feels about next season, and shares the same confidence as Hyatt does.
"There's definitely some pressure coming off of a state championship win and pressure to go back to back. I think we have a good chance of doing it again. We have a lot of good players, good juniors, good sophomores so hopefully next year we can step up and win another one," said Bailey. 
Not only was this season a success for the whole team, but as well as individual players, in which many broke school records. Sam Stephens, junior, broke the school record of the most rushing yards in one football season. Senior Hogan Carmichael now holds the school record of the most passing touchdowns, which John Bledsoe has held since 2015. Senior Charlie Ozolin also broke the record of most receptions and yards in a season. 
Many Summit players were chosen for the 1st and 2nd Team All-IMC, OSAA's all-state team.. The first team consists of Carter Nelson as Offensive line and linebacker, Spencer Elliot as Offensive and Defensive line, Charlie Ozolin and Ethan Carlson both as Wide Receiver and Defensive Back, Sam Stephens as Running Back, Hogan Carmichael as Quarterback and Chip Allers as Defensive Line. Second team consists of Hank Brundage as Offensive and Defensive Line, Charlie Crowell as Tight End, Zach High as Offensive Line, Kallon Booher as Linebacker and Collin Moore as Defensive Back.
These big wins and successes could look daunting for future players, as they navigate the new season without the seniors, however the teams overall chemistry and the support from  their coaches could help continue this winning streak into the future years.
"The thing that sets our football program apart from other football programs around the state is we build relationships with our players. We care deeply about them as individuals, students, and players." The football team is held to high standards, and their words to live by are "One Way. The Right Way. Community, Classroom and Field," stated Hyatt. Carter Nelson added his opinion on last season and their success.  
"Everyone put their heart and soul into football and I think that level of dedication and commitment really pushed us to be better. Also, our coaches are amazing, creating plays and giving us techniques that would help us succeed."
Leave a Comment
About the Contributor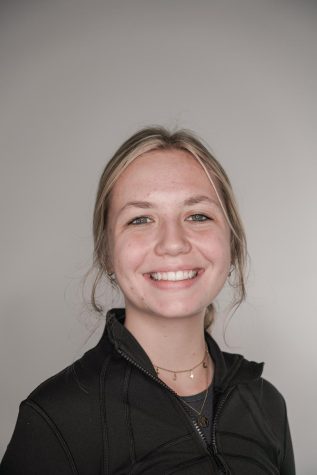 Maria Bartness, Staff Writer
Before, you could find Maria in the cobblestone streets of Southern France, sitting at a parisian themed cafe, whilst eating a croissant and sipping on a "chocolat chaud" (hot chocolate if your french...