Ode to Old Boy
Defining Bend vintage by means of accessibility—and cool factor
There's a secret shop on First Street. Tucked between a Farmers Insurance office and a dog groomer is a window crammed with textiles. Inside, intricate-knit sweaters and college pennants hang side-by-side. Old print advertisements greet the door and tins of collected pin-back buttons cram shelf space. Carefully curated racks of 70s ski gear and WWII militaria flank the narrow store, and there's even a hidden corner for the vintage-inclined toddler. A thoughtful amalgamation of all things: Old Boy Vintage.
Opened June 10, 2022, Old Boy Vintage is the product of a passion—most specifically that of Ezra Watson, owner and aficionado of all things vintage.
Coming from Portland to open Old Boy in Bend specifically, Watson's years spent buying and reselling second hand have culminated into a career. And after weeks of nonstop dedication—working on the shop all day everyday and living out of his car—Old Boy Vintage was born.
"I just saw the need for a cool, hip vintage store in Bend, and there's not very many options right now in Central Oregon," said Watson. 
Before, Bend lacked this kind of vintage scene. Sure, there were hidden pockets of spots with older demographics—like Revival Vintage up the road—and littler pop-up shops like the independent vendors in Iron Horse, but that left an empty spot for a younger generation to fill.
Enter Old Boy.
Initially, Watson's vision for the store pulled on all the aesthetics of a rustic Americana. A Wild West, log cabin kind of feel filled with old cowboy gear. But since opening, as Old Boy's demographic has expanded—growing to include even Japanese resellers with enough regularity that most information available on Old Boy's Instagram is posted also in kanji—so has their inventory. Collected pieces traverse decades, turning the store into a careful time capsule that caters to the individual. 
"Old Boy's atmosphere feels very independent, and completely casual and cozy," said Archie Kerr, Summit senior. "It isn't the least bit intimidating like some of the larger vintage stores in the Pacific Northwest.
The shop name itself stems from another vintage interest: Watson's collection of antiqued Buddy Lee dolls. Think masculinized Kewpies decked in denim; these little ceramic babies started out as Lee Jeans advertisers in the 1920s and have since become collectors' items—in Watson's case, his "old boys."
Old Boy is pretty catchy, too. 
22-year-old Watson is fully at the head of this operation, devoting himself to the business and taking the responsibility of sourcing and selecting items on what he calls his "buying trips."
From thrift stores to estate sales to independent wholesale, Old Boy sources items independently, identifying vintage via zipper specificity and stitching details. Watson spends his trips scouring the west coast and loading up his van, returning home to fill the shop with the goods. 
"I feel like a pirate that's looking for treasure," Watson said. "Always."
In short—equipped with a proverbial eye patch and hook hand—Watson is on a mission to better Bend fashion, and it's this vision that has shaped Old Boy's business model and overall aims of accessibility.
When pricing pieces, Watson considers three things: coolness, condition and the community. Old Boy's vintage pieces are typically marked in the $20 to $75 range, with few exceptions. Wear-and-tear is also greatly considered in marking down an item, and despite being a big believer that these stains and nicks add character, employees still share multi-step stain removal tips at checkout. 
"Old Boy knows what they are selling and won't try to make a quick buck by peddling something with a lot of problems," said Carson Nashem, Summit junior. "Being someone who has visited numerous vintage shops in the Pacific Northwest, I do think Old Boy is reasonably priced. This is especially true considering that the owner is quite approachable and flexible with prices."
A Summit favorite is Old Boy's monthly $10 sale. Held the tenth of every month, this all-day sale displaces the front room's Pendleton display and houses in turn a massive pile of discounted items to dig through. And besides providing great deals, the $10 sale also ensures the quality of the rest of the store by cycling through inventory and keeping the floor curated.
"My mindset is just always be selling stuff because I think that when you sell someone something for a good deal, they're always going to come back and spend more money over time," said Watson. "Sure I could get more money, but I'd rather just give people good deals."
While, according to some people, Old Boy's prices are anything but good deals, it's this conscious effort that counts. In cutting out the middleman—the hours spent scouring Goodwill to no avail or scrolling mindlessly through Depop—Old Boy Vintage is revolutionizing Bend's vintage scene.
Leave a Comment
About the Contributor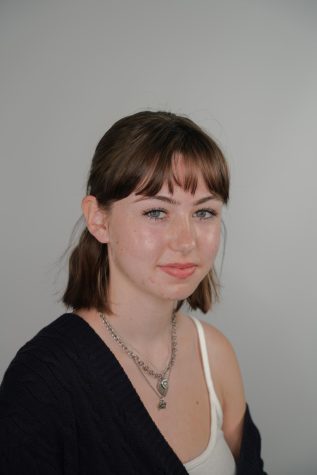 Lindsey Pease, Crest Editor
One half of this year's crest editors, Lindsey has an affinity for dog-earring books and hitting curbs. Most of her time is spent curating her latest ten hour playlist for the given month, enabling her...