New Coffee Shop in Town: Treeline Coffee
There are so many known coffee shops in Bend, so here's another one to add to your list!
Bend Oregon is surrounded by trees, mountains and of course coffee shops! Many know of popular shops like Thump or Backporch, but sometimes it would be nice to explore new territory. Cue in Treeline Coffee! A new coffee shop, run by Jack Ewen, a native Oregonian, that plans to open in early 2023.
 Treeline will be located on SW Emkay Drive, close to office spaces and future apartment buildings making it a convenient place to grab coffee on the go. Emkay Drive is adjacent to the Columbia and Colorado roundabout, making it accessible from OSU Cascades, and Highway 97.  
When asked what inspired Treeline, Ewen said, "I've been working in the coffee industry for a little under 3 years and absolutely love it. Coffee has brought endless joy into my life. I love meeting new people each day and making friends with the regulars. I think it hit me early on that I wanted to run a shop of my own, and once the opportunity presented itself, I had to take it." 
Ewen hopes to set himself apart from other coffee shops by building a relationship with customers, "My true vision is to provide delicious coffee and food while maintaining healthy meaningful relationships with my customers."
After conducting a poll on instagram of favorite coffee shops by Bend's inhabitants, the results consisted of Dudley's, Thump, Sparrow Bakery, Kevista, Sisters Coffee, Active Culture and Pilate. However, Ewen isn't daunted by these popular coffee shops in Bend. 
"One thing for sure is that people in Bend love three major things: the outdoors, dogs and caffeine! To me I see coffee as a community so knowing that I don't feel the competition from other shops. I'm simply doing what I love and I want people to have another place to enjoy good coffee and make new relationships," said Ewen.
Mackenzie Gerlach is an avid coffee drinker and lover. When asked if she would try other places than her usual, she said, "Yes, I would. I think it's cool to find new places and different coffees to try."
Ewen plans to appeal to to many people, "Treeline will provide a work friendly environment, lots of natural lighting, and wide selection of music based on the time of day and general vibe provided. The space is perfect for all types of gatherings." 
He continued, "In the summer there will be live music, along with some adult beverages in the evenings. We will be serving Thump Coffee and a variety of pastries from local shops in town." 
Once the shop is up and running, Ewen's ultimate goal is to roast his own beans and release them in 2024. Great things are in store for Treeline Coffee, and it might just become your new go-to place.
View Comments (1)
About the Contributor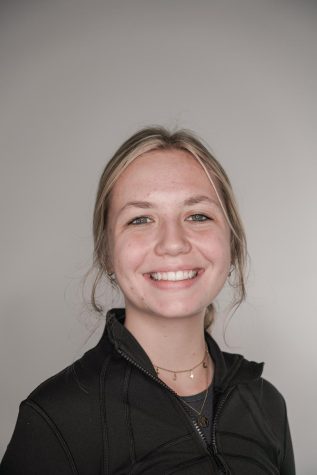 Maria Bartness, Staff Writer
Before, you could find Maria in the cobblestone streets of Southern France, sitting at a parisian themed cafe, whilst eating a croissant and sipping on a "chocolat chaud" (hot chocolate if your french...