Four University of Idaho Students Found Murdered
Moscow community left in shock, prospective students left divided
For the once-peaceful college town of Moscow, Idaho, the murder of four students in off-campus housing feels like an anomaly. The ongoing four-week investigation, beginning after the brutal murders on Nov. 13, continues to perpetuate a heightened sense of fear in the community.   
Despite the help from dozens of FBI agents and state police, over 1,000 tips, 103 pieces of evidence, 4,000 photographs and 150 interviews, authorities have yet to identify any suspects. 
On Wednesday, Nov. 29, police walked back earlier statements in the whodunnit, announcing in a press release that they no longer know whether the killings were targeted, if their killer is still in town or if any danger to the public remains.
"It's incredibly nerve-racking knowing there is a murderer potentially still on campus. It's terrifying," said Sarah Shaffer, a sophomore at University of Idaho. 
The victims, Madison Mogen, Kaylee Goncalves, Xana Kernodle and Ethan Chapin, were stabbed to death in their apartment, directly across from campus behind the university's Greek row—the housing for fraternities and sororities. The four appeared to be spending a typical Saturday night in a community that hasn't seen a murder since 2017. Phone logs imply that Mogen and Goncalves made several unanswered calls to a friend in the early morning; the call to 911 wasn't placed until about noon. Investigators suggest that all four were likely asleep and killed early on Sunday, Nov. 13—they have not yet specified a time. The most popular theory held is that more than one person could be involved in the murders, leaving no signs of forced entry or damage. 
Cathy Mabbutt, the Latah County coroner, reports in a recent New York Times article that the four were presumably stabbed multiple times with a large knife, with some of the victims fighting back.
"After the recent murders and the way the cops have been handling them, I decided not to even apply," said Summit senior Jackson Hawkins, in reference to the redaction of statements and lack of concrete information given by police. Hawkins had previously ranked U of I in his top five schools—holding interest in their robust economics program. 
As a criminology major, Sarah Shaffer believes that the police are doing what is necessary to solve the case effectively and efficiently. She thinks all leads and details are being held back by the police to keep the investigation secure. By releasing critical information along the way,  possible suspects could evade authority suspicion.   
Perhaps because of the lack of public information available, rumors have circled through not only Moscow but social media platforms as well—primarily TikTok. The most popular theory internet sleuths have upheld is that the animal killings—occurring near the same time as the students deaths—are connected. A week before the murders, citizens and police found mutilated animals lying dead, skinned. Investigators have deemed this idea unrelated, yet the crime obsessed is persistent in solving the case, no matter how far-fetched their suspicions are.
"For a small and tight-knit community like Moscow, it's a smart decision on their part," Shaffer said, theorizing that the police will try to release only concrete evidence. "They don't want people getting too involved or adding to already circulating rumors."
Shaffer does, however, acknowledge how hard the lack of information can be. "Everybody is like, 'what the heck actually happened, we just want it figured out,'" Shaffer said.
Most students have returned to campus after an extended Thanksgiving break, but a large chunk remain at home. In light of the fear that has paralyzed the student body the university went completely online until the end of winter term  
"I have never carried a weapon with me before, but I just bought pepper spray and a pocket knife," Shaffer said. "It is completely new to me." 
"It's really surreal, but stuff like this unfortunately happens," said Summit senior Clara Husaby. Husaby's sister is a junior at University of Idaho. "She is trying to keep on going the best she can, but it's definitely placed a horrible feeling over campus." 
Shaffer explains that the campus has been in a constant state of grieving for the four victims that lost their lives. The parents are still in Moscow and speaking to the community, the school has held a vigil and hosted many meetings and moments of silence. 
"All the support provided has been very helpful and certainly brought both the university and Moscow closer together," Shaffer said. 
Husaby's sister Ani also lives in off-campus housing and, much like other students, feels the dark cloud that has settled over the town. "It's really unsettling to have to check the lock every night. To consistently be in a state of worry," said Ani Husaby.
Along with Jackson Hawkins, Summit senior Payton Hornell also took University of Idaho off of her college list after hearing what happened. 
"It's just really unnerving," said Hornell. 
Despite the terrible tragedy at University of Idaho, college applications and incoming freshman culture is still alive. Summit senior Ginger Kiefer, who committed to University of Idaho for Division III swimming, remains positive about attending in the fall. 
"It was certainly unsettling, but I'm not super worried. The school is taking all the precautions they can. It could happen anywhere," said Kiefer. "I am still really excited to go there."
Avery Malace, a junior at Summit, feels the same. "If I was thinking about [attending] University of Idaho, I would still probably go. I mean, this could happen at any other college."
Leave a Comment
About the Contributor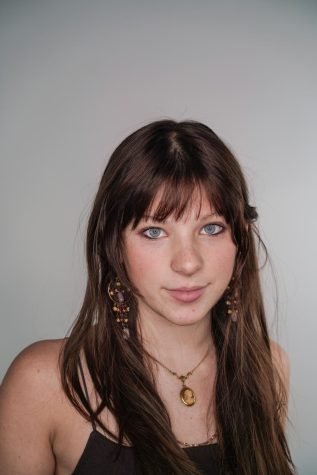 Elliana Bowers, Editor-In-Chief
Amongst her army of plants, hoard of art projects, growing collection of super stylish thrifted clothes and crumpled up to-do lists, you can find Elliana in her sun-soaked room scribbling away in one of...