In the Century Center there lies a small storefront, upon which a garage door sports a golden retriever who stares proudly to the horizon. The pup, named Bo, has become the symbol of Bo's Falafel Bar. Open 8am-8pm, Wednesday through Sunday, Bo's serves everything from sweet and savory bagels in the morning to falafels in the afternoon. 
Under owner Sierra Phillips, Bo's Falafel Bar is not your average eatery. It stands as a symbol of inclusivity where every dish is a tribute to a diversity of flavors and a warm welcome to all. 
"[Bo's is a] great community, with good food, staff and customers," said Pepper Mionske, a staff member at Bo's. Mionske recommended the falafel sandwich, with the spicy toppings and Bo's fries.        
The shop's owner, Sierra Phillips, a 2008 Summit graduate, grew up determined to secure the financial stability she could never claim as a child. She became set on becoming a lawyer, pursuing her dreams in Boston and eventually law school in Portland, before returning to Bend as an attorney specializing in commercial litigation.
The intense nature of her legal career, coupled with the predominance of her ego-driven peers, left Phillips feeling unfulfilled. It was during this period of self-reflection that Phillips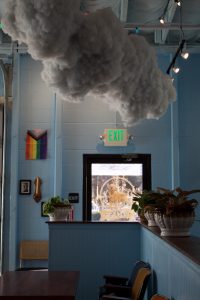 seized the opportunity a space up for lease on Galveston Avenue presented.
Her passion for cooking and desire to explore her Israeli heritage through food birthed the unique flavors of Bo's. Unlike lawyering, business ownership allows creative freedom and self-reliance, allowing Phillips to create the work environment that she wished she'd had before. 
The falafel bar originally opened in 2019, but when the shop outgrew its food-truck kitchen, they switched locations. Now, at 70 SW Century Dr, the staff have more space to maneuver, the kitchen can thrive and customers are quicker to ease their growling stomachs. 
The new location sports baby blue walls, hand-made clouds that decorate the ceiling and old movie theater chairs to bring the space to life.
"I want the restaurant to feel like the parent you can call to pick you up from a party, with an alien and two queens, no questions asked. It's just a falafel shop, but in my experience, those are pretty magical," wrote Phillips via the falafel bar's instagram, @bosfalafelbend. 
The shop's instagram serves as more than just a way to keep Bendites in the loop about the restaurant. Phillips uses Bo's social media page to share personal convictions and the core principles that guide her as a business owner. 
@bosfalafelbend allows promotion of events such as previous drag brunches, to upcoming ones like socially awkward bingo (Wednesday, Nov. 1). 
In addition, Phillips has combined her commitment to her beliefs with business promotion, and turned the shop's Instagram into a force for change and a hub for building a community that shares her values. 
"It wasn't a conscious decision to do it," said Phillips. Bo's endorses everything from mental health to equal pay and LGBTQ rights. "I'm just gonna talk in the way that I would talk to my friends! Then I just kept doing that, because people would give me feedback that it was helpful, or that they felt like it was important to see local businesses advocate for things like that."
From matching donations to The Trevor Project—a suicide prevention and crisis intervention organization specifically for aiding LGBTQ youth—at a Bo's event last year, to simply hanging a little pride flag by the door, Bo's works especially hard to create a safe environment for the LGBTQ community. 
Steadfast commitment to one's principles not only shapes character, but also has the power to impact the people around. It's easy for authenticity to take a backseat to conformity, but the importance of backing up one's values with genuine action cannot be overstated. 
"I see a lot of people who are either afraid to share their values, or succumb to peer pressure and say something that they don't actually believe," Summit sophomore Campbell Thomas. This is an opinion shared by many, and upheld at Bo's. 
"I just really don't like seeing people not stood up for, it really bothers me," said Phillips.                
Phillips also pointed out that in today's economic climate, dining out isn't just about enjoying a meal. It's about actively endorsing the establishment, and customers wouldn't want to give money to a place that contradicts their values. 
And @bosfalafelbend has plenty of posts to make their values clear, such as one from October of 2021: "Yep, we're those people. We like masks, we like vaccines, we like women, we like POC, we like healthcare, we don't like the justice system. We are coming to make your kids gay and/or vegan. "
There may be no magic ingredient in a Bo's falafel that turns you gay or makes you vegan, but having a spot in the community to be respected is the magic that matters.