Barbie: Spontaneous and Pink
Greta Gerwig has blessed the fandom
The Barbie movie: Oppenheimer covered in glitter and sparkles, a pink warfront of plastic and a taste of the real world. Hitting the big screens this summer, co-stars Margot Robbie and Ryan Gosling take advantage of fandom-crafted chemistry to become a dynamic duo; the perfect pair to portray bimbo Barbie and Ken. 
Greta Gerwig's involvement has dated back to 2019, when it was revealed that she would be writing the script in a collaboration with Noah Baumbach. Baumbach directed notable films such as "Marriage Story" and "White Noise," starring one tall-glass-of-water Adam Driver. John Oliver was just saying what everyone was thinking. Summer of 2021, Gerwig officially signed on to the project as director.
Gerwig took control of the original story and gave it a spin on societal chaos and a bedazzled matrix of dream land. A traditional plot of a Barbie movie follows a rich white girl with a sports illustrated body and first world problems. Typically a few jealous best friends, maybe a unicorn and the rest hot babes. In the end, Barbie resolves some fashion crises with the magic of friendship. Gerwig's common theme of coming-of-age storylines is planned to be adapted to Barbie, giving it stability amongst what could potentially be a shallow film. Her most popular works include directing Lady Bird and Little Women, both critically acclaimed films, one of them an indie gem. What moves critics with Gerwig's spontaneous spinoff is the possibility that Barbie, rather indiscreetly, glazes over a potential midlife crisis.
Robbie had secured rights to the popular Mattel toy line convincing Gerwig just how perfect an actress she was for the movie.
Originally announced in September 2009 by Universal Pictures with Laurence Mark producing, development began in April 2014, when Sony Pictures acquired rights to "Barbie." Gerwig began directing the movie and the filming process officially began early 2022. A first teaser trailer for "Barbie" displayed its promise in theaters on December 15, 2022. The trailer was then released online by Warner Brothers the next day, shattering the internet in the process. 
Afterwards, a large number of amusing character posters dazzled social media. Brands and influencers took their own approach to the template with the intention to increase views. These templates were configured using a Barbie selfie generator website, sponsored by the marketing team. After a series of cast selfies specific to the movie were published, fans were inspired to join the new selfie movement.
"I think it was pretty good marketing for the movie because this movie has had so much marketing done that didn't relate to the marketing team. Any other advertisement I saw was just circulating memes and edits," said Summit junior Katarina Cedolin.
Four months following the first, Warner Brothers released the second official teaser trailer. Much like the first few teasers, the trailer reveals very little in terms of plot. What the extended clips do hint at is Gerwig's brilliant humor that clearly earned the movie its PG-13 rating. On May 25, 2023, Warner Bros finally released the full main trailer for Barbie, and audiences were revealed the true story beyond Barbie's radiant makeup and iconic looks. Barbie's world starts to fall apart and she and Ken are forced into the Real World, full of capitalistic materialism and a lack of dolls.
Amongst a handful of strange and concerning trends produced from the dark depths of social media surface subpar bits. These bits, at their core, are simply recurring thoughts fabricated from the abyss of endless scrolling and repetitive sounds. Bibble, a plump and spunky fairy creature, has often been obsessed over by the Barbie girl fandom in incessant ramblings. Margot Robbie may float downwards from her roof but this version lacks fairies and therefore a recurring meme. These satirical cameos make the 2000s series of low quality movies instant classics and movie night top picks. Gerwig's should be just as much of a cheeky classic. Although the old movies were directed by middle-aged, not so mumblecore men. 
With a $100 million budget and an extravagant set, this fantasy world of beach parties and backyard discos blesses Gerwig with a taste of Hollywood opportunity. Know anyone who had to paint a baby girl's room green? This spectacular set drained the pink paint causing a shortage across the nation, according to production designer Sarah Greenwood.
Such a bizarre storyline needs an assortment of actors. Joining the two stars are notable talents like America Ferrera, Kate McKinnon, Michael Cera, Simu Liu, Will Ferrel and even Dua Lipa. A large ensemble cast, with planned choreography and a few comedians, enhances not only the plot but the intense dance numbers and fight scenes just as much. So much pink paint often covers up the truth, concerning style isn't the only modern issue the movie addresses.
On the surface, Gerwig's "Barbie" touches concepts of materialism, patriarchal standards, sexualization and the harsh truth and reality of modern society. Kids no longer play with Barbie dolls and instead finger their phones, gifted to adolescents as a form of pity and privilege. Within the movie, Barbie experiences a disconnection with those who created her and kept her alive.
A soundtrack for the movie called "Barbie The Album" was announced at the end of the official trailer. English and Albanian artist Dua Lipa appears on the album and teasers with her disco-influenced track "Dance The Night." Lipa released her own music video inspired by the "Barbie" teasers and a Barbie poster hinting at the release. The vibe of the song slightly resembles that of popular South Korean boyband BTS's peak hit "Dynamite." Much like the Barbie selfies, the pre-released album gained influencers and artists publicity, and potentially inspiration.
Will Ferrel, who plays the villainess CEO of Mattel, expressed his personal opinion and revealed details about the film's intentions to the press. 
"It is, in my humble opinion, the ultimate example of high art and low art. It's a loving homage to the brand and, at the same time, couldn't be more satirical—just an amazing comment on male patriarchy and women in society and why 'Barbie' is criticized and yet why every little girl still wants to play with Barbie," said Ferrel. 
Ferrel isn't the only little girl that can't wait for this blonde bombshell. Performances from the cast and crew will surely hypnotize fans on its release date, July 21, 2023, exclusively in theaters. On that Friday, and that Friday only, wearing pink in a clique won't be a cliche or a reference to "Mean Girls." 
Leave a Comment
About the Contributor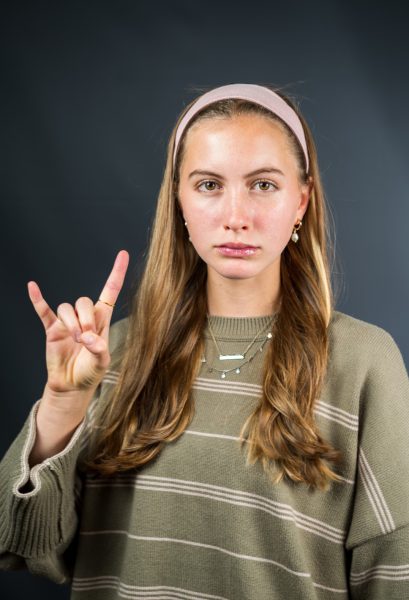 Madelyn Walsh, Crest Editor
Meet Madelyn Walsh, the odd duckling of the notorious Crest Editor Trio. Modern art represents the irony of consumerist society, this girl represents the irony of journalism. An avid writer on and off...