Justema Runs for Bend-La Pine School Board
Summit's beloved former teacher hopes to improve schools and add a unique voice to the mix
After entering a late bid, former Summit High School teacher Elizabeth Justema is one of four candidates campaigning for a spot on Bend-La Pine's school board in the upcoming May 16 election. Four candidates are running for the positions: Kina Chadwick, Nicole Fitch, Rod Hanson and Justema. Unlike her competitors, however, Justema is the only candidate who has previously taught in Bend-La Pine school, a nuanced perspective that she believes will benefit board decisions greatly.
A school board position would be a new venture for Justema, who previously worked at Summit for 10 years as an AP US History and Economics teacher. She decided to take a pause from teaching in 2022 after chaotic teaching changes over the past several years. After witnessing the dilemmas catalyzed by the COVID-19 pandemic, Justema knew she couldn't sit quietly and let things worsen.
"In the last few years, I carried about 230 students at a time with class sizes in the upper 30s," said Justemat. "You can't have discussions, can't do presentations, can barely keep up with the grading load, are unable to catch kids in need in a timely manner…All this translates to feeling like you are just hanging on, not thriving in the classroom and that's a pretty terrible feeling."
After moving to Bend 23 years ago and working in business, Justema earned her Master of Teaching in 2014 and has worked as a teacher ever since. Justema is also a volunteer at the local nonprofit The Office Group, where she provides tutoring to high school students and acts as a board member.
Rather than return to Summit for the 2023-24 school year, Justema has decided to shift her focus towards improving schools at the root. If she is elected to Bend-La Pine's District 7 School Board, she hopes to shift policies in a constructive direction.
"No one on the School Board has ever taught or worked in Bend-La Pine," Justema said, referencing her unique voice as a candidate. "There is a disconnect between what they are focusing on and the reality of what's happening in the schools. I hope to bridge that gap and advocate for real-world solutions that translate to the classroom and school building." 
After spending years on the receiving end of new school board policies and initiatives, Justema will push for decisions that not only sound effective but are shown to improve students' learning experiences.
"Teachers are struggling with unregulated student behavior, disengaged students, isolated families, technology gone wild, and a mental health crisis," Justema said. "Less and less can be accomplished in the classroom and this harms every child. The bottom line is that education itself is getting watered down and students are getting shortchanged."
Leave a Comment
About the Contributor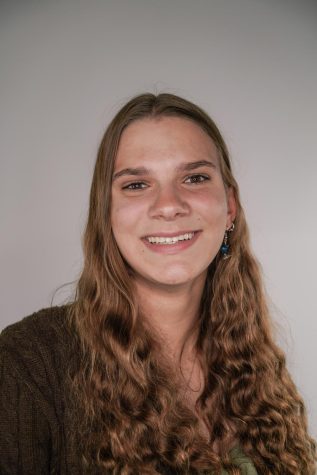 Lina McDonald, News Editor
When she isn't busy catching grammar errors and writing pieces for the Pinnacle, news editor Lina McDonald can almost certainly be found drinking copious amounts of coffee and wandering around Roundabout...