Cool People Wear Sunscreen
Teenagers are popularizing sunblock, influencing one another into healthy habits
Growing up here in Central Oregon, my dad always encouraged me to wear sunblock. No matter rain or sunshine, my dad was persistent. My parents, being raised in southern California, had spent lots of time in the sun. Being kids, it was just another piece of advice that was taken with a grain of salt, but the brutal consequences of skin cancer and sun spots that had eventually bitten my parents in the butt. 
No matter how old you are, humans face harsh ultraviolet (UV) rays every minute we are in the sun. Even on cloudy days, our skin is susceptible to these rays , which can lead to skin cancer, discoloration and wrinkles over time. 
Do teenagers at Summit really wear sunscreen? According to a survey conducted at our high school, the answer is no. Only 27.3% of students admitted to wearing sunscreen, raising a concern for future skin damage. 
When asked why one doesn't wear sunscreen, 50% replied it is due to the harsh ingredients that break out their skin, along with 33.7% caiming it's just "too much work" to incorporate it into their daily routine. 
Individuals are aware of the damaging effects of not wearing sunscreen, however many of them struggle to incorporate this simple step into their daily routine. When Summit students were asked on a scale from 1 to 5 how important sunscreen is, every student had rated four to five on the scale, further admitting that sunscreen is important for the skin. 
Summit Junior, Paige Deke is a skincare extraordinaire. She enjoys self-care activities like face masks and hot tubbing with her friends. She started to get really into skincare through watching videos on TikTok and Instagram.
"Sunscreen is very important to me. I am very consistent with wearing it on my face, hands, and neck daily,"  Deke said. "I don't think teenagers really understand the consequences."
Many don't wear sunscreen because of the way it makes their skin feel, the way their skin reacts or the time it takes to apply. The issue is that some are not wearing sunscreen at all. 
Luckily, the necessity of sunscreen has become a wake-up-call within many skincare and makeup companies, who have started incorporating SPF and other skin benefits like hyaluronic acid into their products. 
Summit Junior Lucy Misischia explained that she initially didn't prioritize sunscreen in her skin care until she came across a trend on TikTok.
"I saw TikToks which inspired me to indulge in a good sunscreen. That's when I really started to care about protecting my skin from sun damage,"  Misischia said.
It's one thing to start incorporating sunscreen into your skincare,  but another to use it daily. But once you've crossed that threshold, there's a whole wide world of sunscreen and exploring which one is the best pick for you. These are some of students top favorites, all for different reasons. 
SuperGoop Unseen Sunscreen – $22-38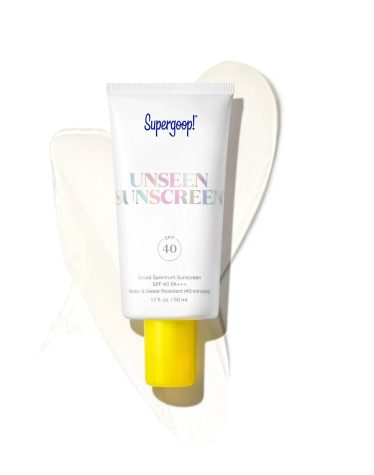 Feels like velvet on the skin. No white casts. It's 100% invisible, weightless, and scentless with a broad spectrum of SPF 40 protection. Great for those who don't like the feeling of regular sunscreen or worried about breakouts from oil.
*Writer's Favorite 
SunBum Sunscreen Face Stick – $12.49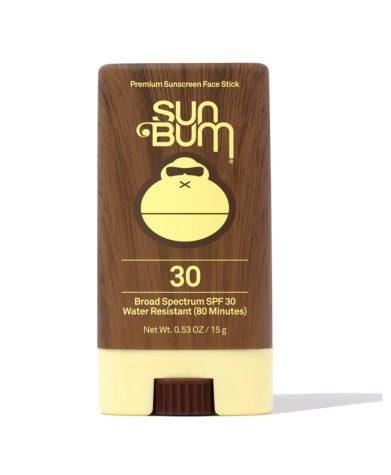 This compactable sunscreen stick is perfect for those on the go. With SPF 30 this face stick glides on like a dream which makes it quick and easy, mess-free.
*Internet Favorite
EltaMD UV Daily Tinted Broad-Spectrum -$38
This lightweight moisturizer provides UV protection 40. It's super hydrating and a sheer facial sunscreen makes it the best for acne-prone skin. Featuring hyaluronic acid. Choice of tinted and untinted formulas for use every day.
*Paige's Favorite 
CeraVe Hydrating Sheer Sunscreen – $16.99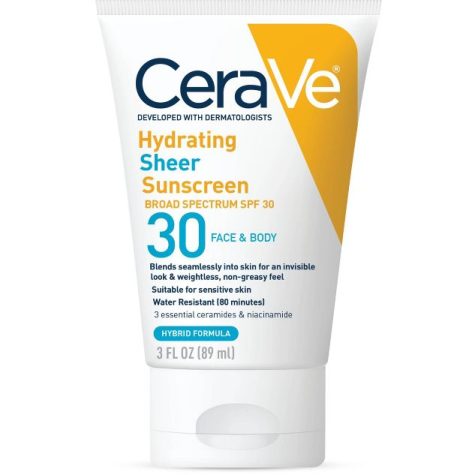 This hydrating sunscreen leaves skin feeling comfortable, velvety-soft, and smooth to the touch. With SPF 30, hyaluronic acid, zinc oxide, this mineral/chemical hybrid is perfect for use on face and body.
*student favorite 
Hawaiian Tropic Weightless Hydration Lotion  – SPF 50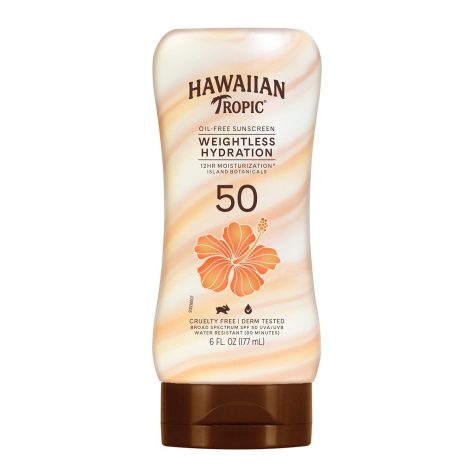 This unique hydrating formula offers 12 hours of moisture. Made with island-inspired botanicals and ingredients like papaya, mango, passion fruit, plumeria, guava, and aloe. This sunscreen offers SPF 50.
*student fav for best smelling
Finding the right sunscreen can take a lot of trial and error. But now, more than ever is the time to start exploring and experimenting with sunscreen. Trust me, your older self will be thanking you for it. 
Leave a Comment
About the Contributor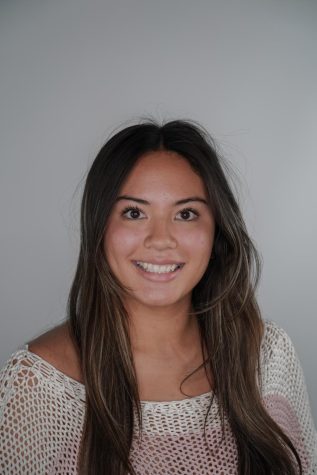 Danielle Evans, Website Manager
Danielle is a sociable and friendly person! She is looking forward to meeting new people and is excited to be an editor for The Summit Pinnacle this school year. When you first meet Danielle, she'll...