Gina Zander: Bus Driver or Superhero?
Navigating icy roads, post-pandemic teens and rows of antsy children—all at 8am
 Early in the morning every weekday, Gina Zander boards a school bus and conducts a pre-trip survey of the vehicle—checking the hoses, engine, oil and tires—making sure everything is working properly. She then turns the bus on and lets it run to warm up, checking the seats and inside lights. After she tests the brakes, she's ready to start her route. 
 Gina has been working as a bus driver for seven years, and all of these daily safety measures ensure that her group of riders make it to school safely. Keeping the kids safe is the most nerve wracking component of the job, but Gina enjoys the challenge.
"Driving a bus is a challenge. Every day is a challenge, and I kind of like that…I always get nervous, but when you get it done, it gives you the achievement of doing something that's hard to do."
She had previously worked as a mail carrier for 20 years, and started bus driving after her mom recommended it. Gina would meet her mom at the transportation department whose coworkers agreed that she would make a great driver.
It took one extreme winter to convince her.
"It was a winter when I was delivering mail. I was shoveling people's mail boxes for them, freezing and soaking wet, and I was like, 'I really need to get a different job,'" said Gina. "I was tired of delivering packages on Christmas in the snow. So one summer they decided to train me while I was still working my other job, and I fell in love with it."
Her favorite part of her job is the relationships she forms with the kids who board with her. Whether it's hyper elementary schoolers giving her drawings from school or groups of teenagers filling her in on the current school drama, she always stays positive and makes the kids smile.
"It's just like being a parent, really. Just like a bus load of kids that are yours."
I joked about the stereotypical idea of a bus full of teenagers—a few quiet kids in the front, some chattering friends in the middle, and then complete chaos at the back. Someone got a hold of someone else's hair, objects are flying, and it's sounding suspiciously like a tuba is being played. Gina laughed and said that certainly none of her school buses are like that.
"High schoolers are super easy and chill. They talk to their friends. They're on their phone, they're listening to music—nobody's really playing a tuba."
High school students actually tend to be quieter than the younger grades, though they are willing to take a headphone out in the morning to greet their driver. In the afternoon, Gina gets more information out of riders who are no longer half asleep. She encourages kids to sit closer to the front so she can hear them, and she hears a lot.
"The students that sit close to me would have conversations with me, so you get to know those students. They'll talk to you. I learn about drama, what plays are going on, who's playing who, who's dating who. I know a lot of stuff, are you kidding me? Who broke up, when she got her license, all that."
Once she drops the kids off, Gina spends about a half hour cleaning the bus. She cleans the windows, wipes down the seats, and sweeps, finding a small army of stray pencils in the process. Miscellaneous items that have fallen out of backpacks are generally the most she finds. Even on hours-long drives where the kids are allowed to eat, such as sports events and field trips, most kids are respectful about not leaving trash on the bus. If there are any violations of bus rules, Gina finds that students are receptive to feedback.
Some of the outings that aren't her usual scheduled routes are overnight affairs. Gina parks the bus in the hotel parking lot (sometimes scoping out the space with a Google Maps Satellite view beforehand) and has her choice on whether to join team outings. She cheers the team on from the sidelines when she attends sports events.
"It's like you have all of these kids that are kind of yours. You watch them play basketball, you're cheering them on. And I know it's not my kid but like, 'Hey! They're from Summit! I drove them!' you know?"
After the pandemic, her daily bus routes changed, due to social distancing rules and changes with the bell schedules, leaving her with an entirely new group of kids to drive. Students have been talking less since the pandemic because they don't know her as well, but she's getting to know the new group.
"In the beginning, before the pandemic, I had the same route—Summit and Pine Ridge for four or five years—so you get to see those kids go all the way through. I picked up kids as freshmen, and drove them as seniors to their graduation. So you get a relationship with them, and the more you know them, the more they talk to you."
Gina is undeterred from the challenge of meeting and getting to know new students on her daily routes. Things are slowly getting back to normal with all those who choose to sit near the front, one bright morning greeting at a time.
Leave a Comment
About the Contributor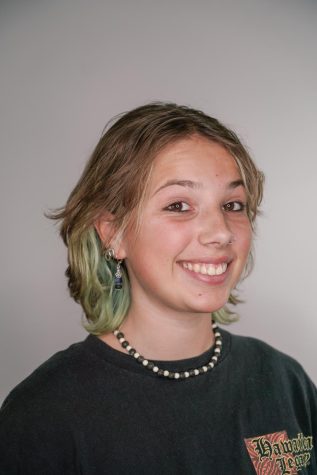 Jesse Radzik, Staff Writer