Unnamed Denim and the Rise of Boutique Brands
Many Summit students are shifting away from affordable thrifting outings in search of fresh new looks, opening up a new market for smaller clothing and fashion companies.
Over the summer of 2022, Summit junior Hayden Brinker spent most of his afternoons in Regroup Thrift Store and Revival Vintage, sifting through the hangers trying to uncover interesting statement pieces, or basic workhorses for his wardrobe. Brinker intended to bulk up his closet heading into junior year with colorful tees and swathes of browns, blacks and whites in preparation for his fall fashion.
Until the end of summer, Brinker had sourced nearly all of his clothes from thrift stores around town, even once traveling to Portland to peruse the local Goodwill bins. Then one Saturday, a couple of weeks before school started back up, he stopped into Revolvr.
"I always knew about the boutique scene downtown," Brinker said. "But expensive stuff never really interested me." 
Revolvr's presentation was so different to the vintage and second-hand shops he was used to. Vintage posters on the walls, 70s cameras on the shelves and even a bar at the back to serve beer. He was instantly enthralled by the clean presentation and curated clothing selection. 
"I hadn't heard of any of the brands before, but all the clothing was so cool," he said.
Brinker isn't alone. More teens than ever are being pulled to stores like Revolvr, Jack and Millie and even Lone Crow Bungalow downtown. Students are paying a premium in these stores for brands like Wilkes Denim and Seager. Ever heard of them? Probably not, and neither had Summit junior Angus Anderson.
 "I saw the price tag on some pants and I was like, 'Who makes this?'" said Anderson. 
Although the prices are premium, the clothing sold in these stores is rarely from any name brand or well-renowned distributor. Unlike Tactics, a skate store just next-door to Revolvr, you won't find any Vans, Supreme or Nike in these boutique shops. It's almost as if these stores take pride in their lack of recognizable stock, aggressively rejecting the big clothing company norms. This is hardly an issue for many teens however, who still buy and wear these unknown brands with pride.
Alternative clothing brands aren't new, but their explosion in popularity is. In fact Seager—one of Revolvr's most popular brands—was only founded in 2015. This devaluation of brand name didn't start in the boutique stores however; it started a little earlier with the trend of thrifting. 
"I think thrift changed how some people think about fashion," said sophomore and unconventional fashion guru Axel Hagg. "You don't look at something and say, 'That's Prada' you look at something and say, 'That's heat.'"
This style-over-brand attitude was cultivated among fashion heads around the world as "fresh thrift finds" flooded social media pages, and it became trendy to wear fits no one had seen before. Where desired items did exist, like vintage fleeces and Carhartt jackets, alternative options were found, pieces that captured the vibes without the price tag.
Taken to its logical conclusion—and with a healthy dose of daddy's money—Summit students have started to venture outside of the thrift shops, and into the world of indie brands in search of fresh looks, and unique styles. Contrary to the thrifting mindset, in the world of indie, the price for uniqueness is high, and people pay it.
It would seem that there hasn't been a better time to be an indie fashion company, in Revolvr, Upstate New York Stock is peddling colognes that are becoming more commonplace than Dior, Freenote Cloth manages to sell $118 shirts (just a striped long sleeve by the way) and $275 pants, additionally Seager has taken over the market for cream and brown clothing entirely. Moving away from the economic advantages of thrifting, brands can get away with ludicrous up-charges as long as their pieces are interesting and new.
As to what this means for bigger brands, it's not so cut and dry. There is still certainly a market for name-brand clothing—even in contemporary circles Patagonia and Carhartt are cherished—but this may be a chance for the little guys to really exercise some creative freedom. Online we have already seen solo fashion designers launch their companies and witnessed the rise of smaller brands like Liquid Lagoon.
Liquid Lagoon—which sells a whopping two styles of pants, one shirt, a single style of hoodie and a pendant—has a creator page that reads "Liquid Lagoon was created by Jacob Robillard, a Middletown Connecticut eclectic artist," and that's all we know. Despite the sparse background, Liquid Lagoon is similar to many other brands lately— someone wanted to make clothes, so they did. With TikTok and Instagram offering superb platforms for free marketing, and wholesale factory production just a google search away, it's never been easier to break into the fashion market.
This new acceptance of style at any price from anyone has already started to cause an explosion of new fresh brands and looks in local stores and on the World Wide Web. Although boutique stores have monopolized unique firsthand fashion, at some point the influx of indie clothing is going to far exceed the distribution of these smaller shops. 
"I don't think it'll be long before these smaller brands start popping up in stores like Target," said Anderson.
There's still plenty of areas in fashion that still stick to brand names—especially the sneaker heads—and this new fashion market has a high entry fee, but for many Bendites $45 is a small price to pay for a bomb-ass beanie.
Leave a Comment
About the Contributor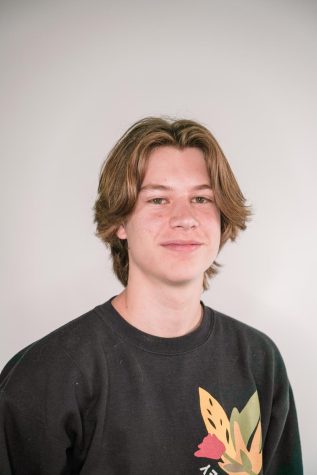 Jackson Crocker, Crest Editor
Junior and section editor Jackson Crocker is constantly working on becoming the best writer he can be, and also maintaining his school/work/life balance to the best of his ability, he is succeeding at...