Wildland Firefighters: Keeping Oregon Safe
Behind the scenes of local forest-firefighting operations.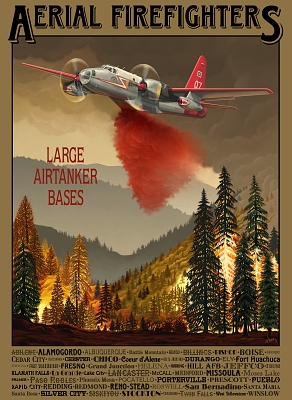 In the Central Oregon sky ablaze with color, harsh smoke fills the air and the overwhelming bright red-orange hues release insufferable heat and surround smoke jumpers. An office desk and uncomfortable chair is the standard workplace, unlike that of wildland firefighters, who work day and night in the midst of bursting flames, smoke and unbearable temperatures. 
According to the Northwest Interagency Coordination Center, 549,093 Oregon acres burned just during the summer of 2022, necessitating wildland firefighting crews coming to Oregon from all over the US. In a recent Washington Post article, experts predict that even with cuts to emissions, the risk of extreme wildfires will rise anywhere from 14-30% within the next 30 years. 
Given these worrisome statistics, it's important to learn about wildland firefighting crews and all they do to keep Oregonians safe. I spoke with firefighting professionals including incident command, dispatch, public information, smoke jumpers, pilots, air tactical group supervisors and air tanker base managers (at multiple Central Oregon locations) to understand the complexities of their roles. These brave men and women are responsible for keeping us safe, and it is through their sacrifices, toil and courage that our communities survive.
Several themes emerged in my interviews regarding challenges in this field including the strain on families, stress and worsening fires due to climate change.
"The most difficult part of this job is home life. Normally people are gone half the year, year after year, so it definitely puts a strain on families," said retired smoke jumper and Air Tactical Group Supervisor Rob Rosetti. Smoke jumpers, just like the name implies, actually jump with a parachute into the site of the fire, providing an initial attack response. This line of work requires rigorous training and has many risks. The reality of this job is that loved ones and families are separated for prolonged periods of time, and being away from family reduces emotional support, communication and bonding. 
Stress levels are high among crew members. Incident command can be seen as the behind-the-scenes crew, although their jobs are just as important as actually fighting the fires. They focus on finance, logistics, planning, safety and getting information out to the public along with public information officers. United States Forest Service (USFS) Public Information Officer, Amber Cracksburger—stationed at Mt. Bachelor—expressed feelings of work stress and fatigue. 
"It's a stressful job, you work sixteen-hour days, for two-week payrolls… it's kind of exhausting," said Cracksburger. The motivation and commitment to persevere must be strong enough to endure these long stretches in difficult, adverse and dangerous conditions. 
Along with stress, there are also many dangers and risk factors to be aware of. 
"I used to be on a hotshot crew. Once we were trapped by fire—it was completely surrounding us, there were 60-mile-per-hour winds. We were told to go into a meadow and set up our fire shelters, but just before we did, they sent in a big transport helicopter that picked up our whole crew. As we were lifting off the meadow, I could see the flames starting to grasp the entire meadow," said Redmond Air Tanker Base Manager, Eric R. Graff. Air Tanker Base Managers dispatch and send out air tankers to drop retardant on wildfires. When Graff told his story, it made me realize just how important communication, adaptability and fearlessness are in this line of work.
"I've been doing this 22 years and I see that every year the fire season is longer, more intense, more fires and bigger fires. I think the land is getting drier and droughts are persisting longer," Graff said. Fires are worsening to a great extent that's never been seen before due to climate change. If this continues, how many acres will have to burn until the damage is irreversible? 
According to the Environmental Defense Fund (EDF), the average wildfire season is three and a half months longer than three decades back. 
"Climate change is real and it's really affecting the fires, there's no question about it. Every summer I've come to help has been worse than the summer before," Rosetti said. 
Although there are clear struggles with fighting wildfires, there are also strong motivators to persevere and unite with colleagues. When walking into these professionals' place of work I could feel the sense of welcomeness and family. Even after a long day's work the crews were still socializing and bonding by playing games, talking and enjoying meals together. It was as if being in the company of each other recharged them and helped them to process the mental toll their jobs can sometimes take on them. 
"The most rewarding part of this job is the people. I really enjoy working with everyone. Nobody's really here for the money, everybody's here because they want to work and help fight the fire," said Andy Boaz, a pilot at the Redmond Air Tanker Base. 
"The community, all of us, the pilots and the tanker bases, they are your people, your family," Boaz said. This idea of one big family, all working towards the same goal is so important. In a job where lives are at stake, the friendship and comradery among firefighters across job roles helps them to cope with stress, and to feel less alone.
Dan Norskog, a smoke jumper from the Redmond Air Tanker Base, talked about the complexity of fighting a wildfire, as if it were a complicated, beautiful puzzle. 
"When you have this thing that's in front of you, that's this puzzle that you know is gonna be hard, and when it's done you know you did it," said Norskog.