Wesley's Met Gala Review
The first Monday in May, a day the entire fashion world looks forward to: the iconic Met Ball. This gala is an annual fundraising event for the Metropolitan Museum of Art's Costume Institute. This invite-only event sells tickets for $35,000 each, and 700 celebrities, influencers and designers pile into the exhibit for the night. While the red carpet before the event begins is highly photographed and videoed, what goes on behind closed doors is a mystery. 
The theme this year was "In American: An Anthology of Fashion" with the dress code of "Gilded Glamour". The Gilded Age was from the late 1800s to the early 1900s. Think corsets, bustles (elongated backsides), long silk gloves, puff sleeves, hats, ruffles, lace, pearls and pastels. "Gilded" means covered thinly with gold. This age was all about being glamorous and extravagant on the outside. Grandiosity outlined both the decade and age of fashion. Given how corrupt the Gilded Age was, it is an ironic theme choice—considering how many of the wealthy people who attend this event made their fortunes through corporate wealth at the expense of the working class. 
However, it seems that every year celebrities fail to execute the theme. In my opinion, ever since the iconic: "Heavenly Bodies: Fashion and the Catholic Imagination" theme in 2018, it's gone downhill. 
But now I'll focus on the few who were actually on theme at the Met Gala, and subsequently—best dressed.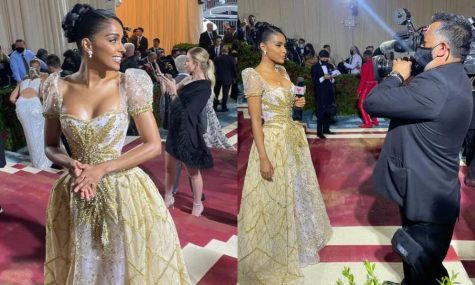 My best-dressed pick of the night goes to Génesis Suero. Never heard of her? She's actually a Telemundo Reporter who was covering the event, of course someone who wasn't even on the strict invite list was the only person who did the assignment correctly! Wearing a stunning gold beaded gown by Lucia Rodriguez, her look perfectly matched the theme while also looking absolutely gorgeous.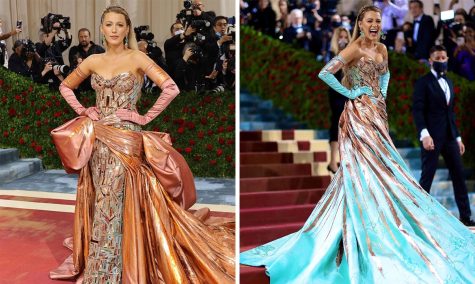 Is anyone surprised that Blake Lively killed this look? Every year she manages to execute the theme and perfectly match the carpet colors. At this point, I'm guessing Anna Wintour asks Blake what she's wearing beforehand to plan accordingly. With a New York City-inspired gown by Versace, the bronze colors paid homage to the Empire State Building, the later-revealed blue for Grand Central Station, and a seven-tier crown for the Statue of Liberty. All of these iconic buildings and structures were built in the Gilded Age and represented New York City's history beautifully.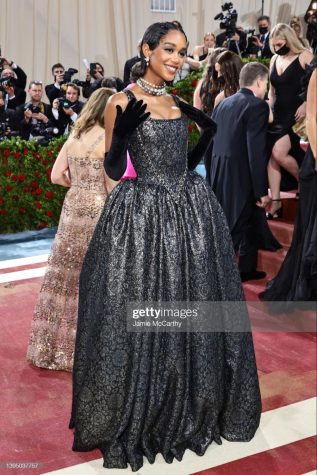 Next on the list is actress Laura Harrier. Her look gives a period-piece, modern princess, and it was designed and hand-stitched by the one and only H&M. Paired with long black velvet gloves and chunky pearls, the corseted gown represented the era excellently.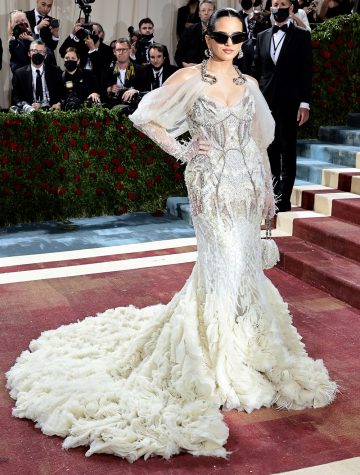 Next is Rosalía, wearing a custom Givenchy gown, serving as a futuristic interpretation of the Gilded Age. The meticulous and excessive embellishments, beads, mesh and ruffles pulled together an outfit that somehow could fit into both into a historical ball and a present-day red carpet event. Paired with her thick black sunglasses, Rosalía killed this look.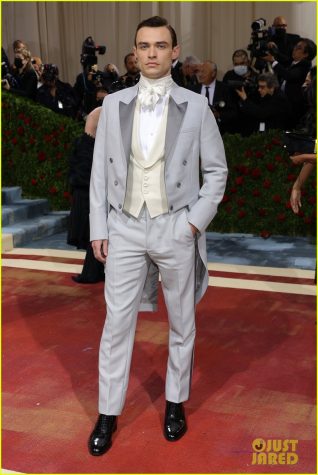 It was Gossip Girl star Thomas Doherty's first Met Gala and he absolutely dressed the part. Wearing an unbuttoned, multi-piece tailcoat, his look designed by Dior created a look that complimented both the era and himself.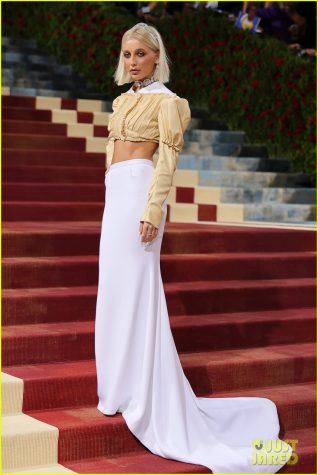 Emma Chamberlain, the queen herself. Dressed by Louis Vuitton and jewels by Cartier, she slayed. Creating a modern take on a traditional princess gown with the puff sleeves and ruffles, turned crop top and thin skirt, this look is so flattering and very satisfactory for the theme. As the chosen interviewer for Vogue of the night, I expect nothing less from her!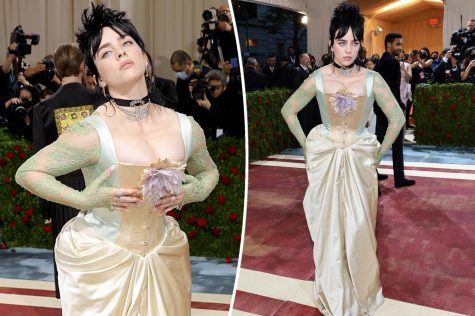 Another one of my favorite looks was from Billie Eilish. Wearing an entirely upcycled, custom Gucci satin corseted gown—the lace, bustle and flower pulled the whole look together. Finishing the outfit with her classic grunge look and choker on top, she looks like Billie Eilish straight out of 1890.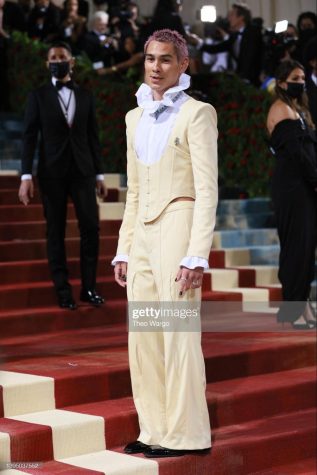 For Evan Mock's second Met Gala, he donned a yellow Head of State suit with a ruffled collar and a hem resembling a corset. Decked out in Cartier jewelry, he epitomized the gilded age theme from head to toe. I love that Mock took a risk that most men weren't willing to take and he looked 10/10! 
Now to the horribly dressed…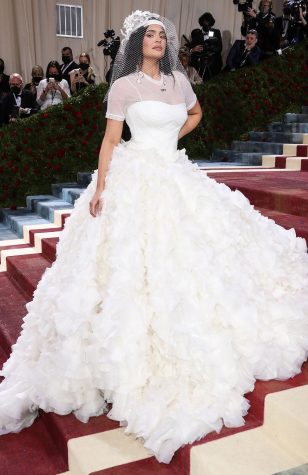 No comment. Okay, okay, okay I know it was paying homage to Virgil Abloh (Off-White founder and Louis Vuitton designer who recently passed away due to cancer) but honestly, I think he would even be disappointed. Who pairs a wedding dress with a baseball cap? If she got rid of the hat, veil and mesh T-shirt neckline, it would maybe suffice, but even then it still wouldn't fit into the theme. I expected more from you, Kylie!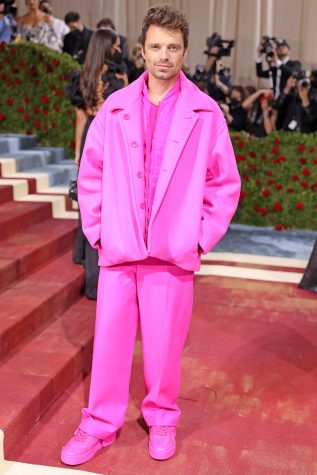 In what world did Sebastian Stan think this was Gilded Glamour?? Straight out of the 80s his neon pink suit (more like a sweatsuit) definitely did not satisfy me. Maybe if the theme was middle school boy athletes!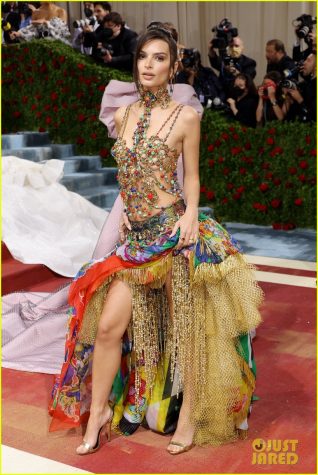 You're joking. I legitimately laughed out loud when I saw this one. In no way did Emily Ratajkowski fit "Gilded Glamour" and even so, it looks like a 5-year-old's craft table. Versace was starting to be my favorite designer for the Met Gala this year until this one…we'll see if she gets an invite again next year.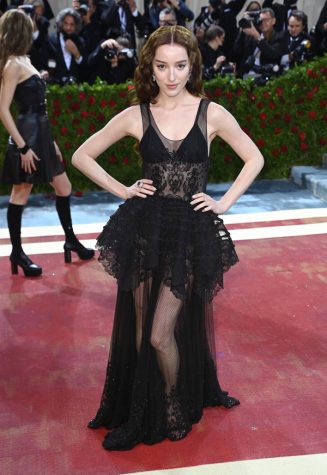 Could you not have just taken one of the dresses off your Bridgerton set? You would think that actress Phoebe Dynevor would be familiar with this era of fashion, but apparently not. Instead, she went with a look inspired by a gymnast in a goth phase.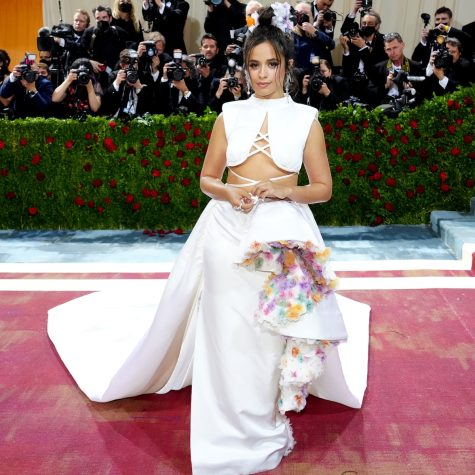 How does Camila Cabello keep getting invited? Every year it's terrible. With a Forever-21 esk crop top, worn with a wedding-like skirt with floral ruffles, she did everything but embody the era. This look would fit in better at Coachella if anything.